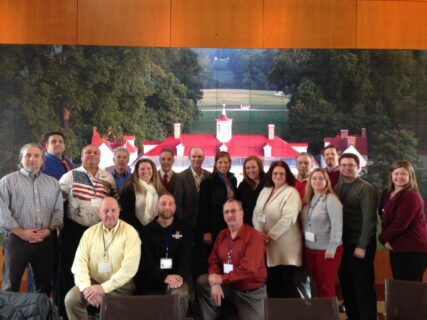 Ashbrook brings teachers to Mount Vernon for a weekend with George Washington
This past weekend, the Ashbrook Center brought 18 teachers from around the country to George Washington's Mount Vernon. Teachers enjoyed private tours of the mansion and the grounds, and an audience with the historic re-enactor who portrays Martha Washington.
In addition, participating teachers had the opportunity to explore George Washington's life and presidency in depth, through his own writings. We explored the "Rules of Civility" which guided the young and ambitious Washington as he shaped his character so as to rise within the Virginia aristocracy. We discussed his surveying career and military service, which gave him an expansive view of the potential of a united America. We discussed his letters on religious liberty, including his famous letter to the Hebrew Congregation at Newport, with its dramatic proclamation, "It is now no more that toleration is spoken of as if it were the indulgence of one class of people that another enjoyed the exercise of their inherent natural rights, for, happily, the Government of the United States, which gives to bigotry no sanction, to persecution no assistance, requires only that they who live under its protection should demean themselves as good citizens in giving it on all occasions their effectual support." Finally, we discussed key issues within his presidency that challenged his vision of a united America, including the Whiskey Rebellion, his Proclamation of Neutrality, and the persistence of partisan views and local identities that he challenged in his Farewell Address.
Participants got a fuller view of George Washington as a man, as a precedent setter, and as a leader calling Americans to embrace the full promise of our national experiment in self-government.