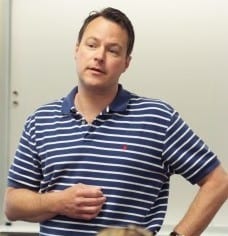 Five Questions with... Prof. Todd Estes
Recently, Prof. Todd Estes (Oakland University) joined the Ashbrook Center to serve as Discussion Leader for a weekend colloquium on James Madison, held on the grounds at James Madison's Montpelier. Todd is the author of the highly regarded The Jay Treaty Debate, Public Opinion, And The Evolution Of Early American Political Culture (University of Massachusetts Press, 2008), and is currently working on a book on the ratification debate that occurred in the public press, and he is editing a book of the writings of his Ph.D. advisor, the late Prof. Lance Banning (University of Kentucky).
Todd is a frequent collaborator with the Ashbrook Center, and has taught several courses within our MA Program in American History and Government. He was kind enough to join us for five questions about his work as a historian. Listen to our interview with Todd Estes.