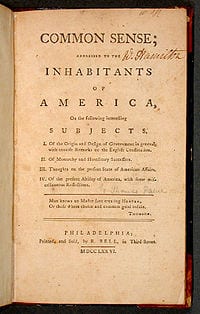 Happy Birthday Common Sense
The Thomas Paine version that is. This pamphlet was originally published anonymously, and advocated independence for the American colonies from Britain and is considered one of the most influential pamphlets in American history.  Credited with uniting average citizens and political leaders behind the idea of independence, "Common Sense" played a remarkable role in transforming a colonial squabble into the American Revolution.
At the time Paine wrote "Common Sense," most colonists considered themselves to be Englishmen.  Paine fundamentally changed the tenor of colonists' argument with the crown when he wrote the following:  "Europe, and not England, is the parent country of America.  This new world hath been the asylum for the persecuted lovers of civil and religious liberty from every part of Europe.  Hither they have fled, not from the tender embraces of the mother, but from the cruelty of the monster; and it is so far true of England, that the same tyranny which drove the first emigrants from home, pursues their descendants still."
This
Edsitement lesson looks at Thomas Paine and at some of the ideas presented in Common Sense, such as national unity, natural rights, the illegitimacy of the monarchy and of hereditary aristocracy, and the necessity for independence and the revolutionary struggle.