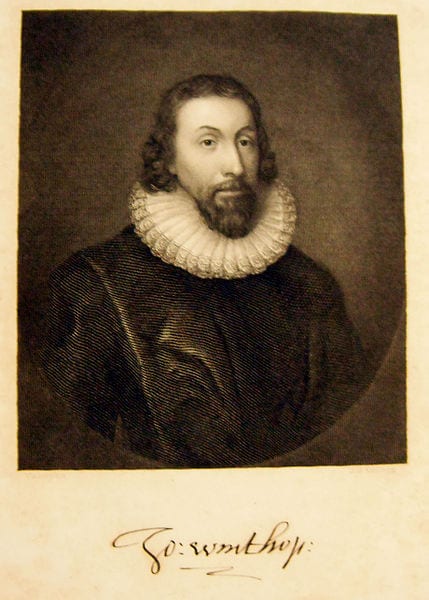 John Winthrop's Vision of a Commonwealth Based in Charity
In 1630, before or during the trans-Atlantic voyage made by a group of Puritans who were chartered under the Massachusetts Bay Company to plant a new colony in New England, the Governor they had elected—John Winthrop—wrote and delivered to them a lengthy sermon on Christian charity. His aim was to prepare them for the life they would soon share in their outpost in the wilderness, which would demand of them mutually supportive labor.
Winthrop's careful and logical discourse can be read as an exposition of Biblical texts on civic virtue. He emphasizes both justice and mercy in social behavior, finding logical grounds to extend charity toward one's neighbors. It is hard to locate in his speech an endorsement of the individualist quest for wealth that is said to have grown out of Puritan theology. Instead, Winthrop emphasizes the covenant with God that binds the Puritan community together and that justifies their joint agreement on a form of government:
We must bear one another's burdens. We must not look only on our own things, but also on the things of our brethren. Neither must we think that the Lord will bear with such failings at our hands as he does from those among whom we have lived.…When God gives a special commission he looks to have it strictly observed in every article…
Thus stands the cause between God and us. We are entered into Covenant with Him for this work. We have taken out a commission. The Lord has given us leave to draw our own articles.