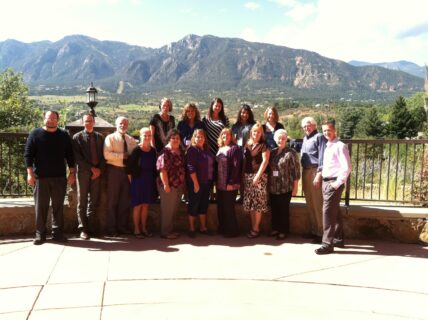 Our Colorado Colloquium in September
Fourteen teachers from around Colorado joined Dr. Chris Flannery to discuss Abraham Lincoln and his views on the Declaration of Independence, the Constitution, governance, and the crises he faced. Representing grades 1 through 12, this diverse group of educators came from private, public, and charter schools across the state, and from both urban and rural areas.
Rooted in documents such as Lincoln's two inaugural addresses, his speech at Peoria in 1854, and works from Thomas Jefferson and Martin Luther King, Jr., the group focused on topics such as Lincoln's views on equality, the rule of law, and slavery. Participants wrestled with difficult and differing points of view over what the Founding Fathers meant in writing "…all men are created equal…" and how they saw slavery fitting within a country founded on such beliefs. A great deal of time was spent on Lincoln's ideas, character, and statesmanship, with all discussions firmly fixed on the primary source documents selected for the weekend.
Discussions continued during meals and social time on both Friday and Saturday evenings, providing teachers with new ideas, new contacts, and some well-deserved time to reflect and re-energize for their classrooms.