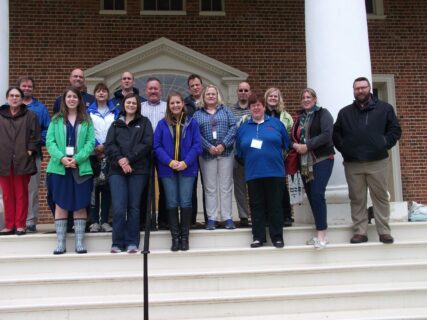 Program Report: James Madison Colloquium in Montpelier, VA
This past weekend Montpelier, the home of James and Dolley Madison, hosted teachers from the western Pennsylvania region, courtesy the Allegheny Foundation. The topic was James Madison: The Father of the Constitution led by Dr. Chris Burkett. Discussions spanned Madison's forty year career as a leading proponent for this republic, his contribution to the U.S Constitution and Bill of Rights. This seminar examined the extraordinary statesmanship of Madison and his lifelong defense of liberty and constitutional self government.
The weekend began Friday evening with Dr. Burkett's introduction of James Madison. Participants enjoyed a private house tour of Montpelier that concluded with a special session of questions from Mr. Madison, who explained his position on a myriad of topics such as Interposition, Ratification, and answered questions from the teachers.
The final session centered on "Guarding Liberty: The Constitution in the New Republic." The colloquium concluded with Mr. Madison's final advice to his country in 1834, "The advice nearest to my heart and deepest in my convictions is that the Union of the States be cherished and perpetuated."