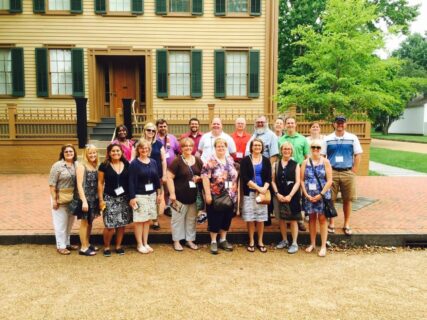 TAH.org Springfield Weekend Colloquium on American History & Government
This past weekend middle and high school teachers gathered in Springfield, Illinois to discuss and analyze Abraham Lincoln's rhetoric, speeches, and writings with Professor Joseph Fornieri, Historian and Professor of the Rochester Institute of Technology.
Dr. Fornieri and teachers dissected the writings of Thomas Jefferson, Martin Luther King Jr., Alexander Stephens and referenced those influences upon Abraham Lincoln's Peoria Speech, Gettysburg Address, and Inaugural Speech. President Lincoln endured deep crises and his writings and musings reflected his struggle with the moral and legal issue of slavery, states' rights, and constitutional limits.
After a morning of discussion and analysis, participants enjoyed an afternoon visit to Abraham Lincoln's Springfield home, followed by a tour of the Abraham Lincoln Presidential Museum.
Participants enjoyed profound conversation mixed with levity and laughter within the sessions, and into the after hours as well. We are excited to be able to help advance the content knowledge of teachers at our programs. About half of the teachers who attended had never participated in a TAH.org program and have already registered for other seminars and webinars.