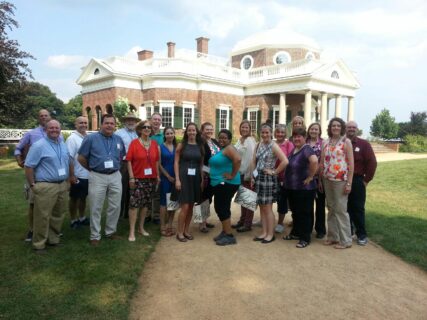 TAH.org Weekend Colloquia in Philadelphia and Charlottesville
TAH.org held several Weekend Colloquia simultaneously this past weekend. Social Studies and Civics teachers from across the country spent time with scholars and peers in Charlottesville, VA and Philadelphia, PA discussing primary documents and touring historic sites.
Charlottesville, Virginia, the home of Thomas Jefferson's beloved Monticello, hosted two colloquia and over forty educators. Jefferson famously stated, "I cannot live without books" and felt that education was foundational to the success of this young republic. The Colloquia Jefferson and Education focused and explored that theme with scholar Dr. Robert McDonald of the United States Military Academy leading the discussion. He is also an alumni of Jefferson's University of Virginia and eagerly invited participants on a Saturday evening tour of the campus.
Keeping on the Jefferson topic, an additional Colloquia entitled Jefferson, the Enigma also occurred that weekend, with scholar Dr. Eric Sands who also graduated from the University of Virginia and currently instructs with Berry College. To this day, Jefferson remains an enigmatic character, one who is highly discussed and debated for his views on equality, slavery, constitutionalism, and federalism. Readings for this seminar focused on those issues as well as Jefferson's impact on Lincoln and his Presidency.
Dr. Christopher Burkett of Ashland University presided as scholar in Philadelphia, the "City of Brotherly Love" for a colloquium on James Madison: Statesman for Constitutional Government. Is there a more fitting place to hold a conversation on the Constitution? Participants spent several sessions discussing this nation's founding documents on Civil and Religious Liberty; The Constitution and The Bill of Rights. After a tour of Independence Hall, Dr. Burkett narrated a short walking tour of Philadelphia.
We would enjoy meeting you at one of the Weekend Colloquia or other programs and hope you have signed up for email notifications for upcoming programs at TAH.org. To view our Programs Calendar please visit, TAH.org/events.