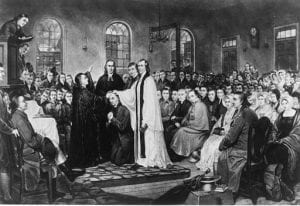 The Methodist Church in America Asserts its Independence: The Christmas Conference of 1784
The Methodist Church in America dates its independence to a "Christmas Conference" held 235 years ago in Baltimore, Maryland. This conference was organized and led by Francis Asbury and Thomas Coke.
Methodism, a Pietistic movement within the Anglican Church led by John and Charles Wesley, began to develop an independent identity when it was carried across the Atlantic to the North American colonies. One might suggest several reasons for the growth of the movement among settlers along the western frontier of North America.
A Church that Grew in the Revolutionary Atmosphere of North America
Methodist theology accorded with the growing spirit of self-determination that was drawing the colonists toward claiming political independence. Methodism rejected the Calvinist doctrine of predestination, replacing that understanding of human beings' ultimate destinies with the Arminian idea of God's "universal prevenient grace." Those who chose to accept this grace, repenting and trusting in God's offer of salvation, could practice a spiritually disciplined way of life, striving for the holiness through which they would attain eternal life. Read more about the conference on our sister site, ReligionInAmerica.org.