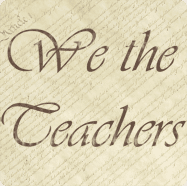 Welcome to We The Teachers
The Ashbrook Center and TeachingAmericanHistory.org are pleased to unveil our new history and government teaching resource blog, We the Teachers.  Here you will find regularly updated posts highlighting not only the resources found at our own site, but many of the best resources, lesson plans, and professional development opportunities offered by leading history and civics education groups and government agencies.
Your feedback is encouraged and will help us to refine We the Teachers as this project continues to develop.  We encourage you to share us with friends and colleagues by posting to your own social networking sites, to follow our feed on Twitter, and to like our page on Facebook.