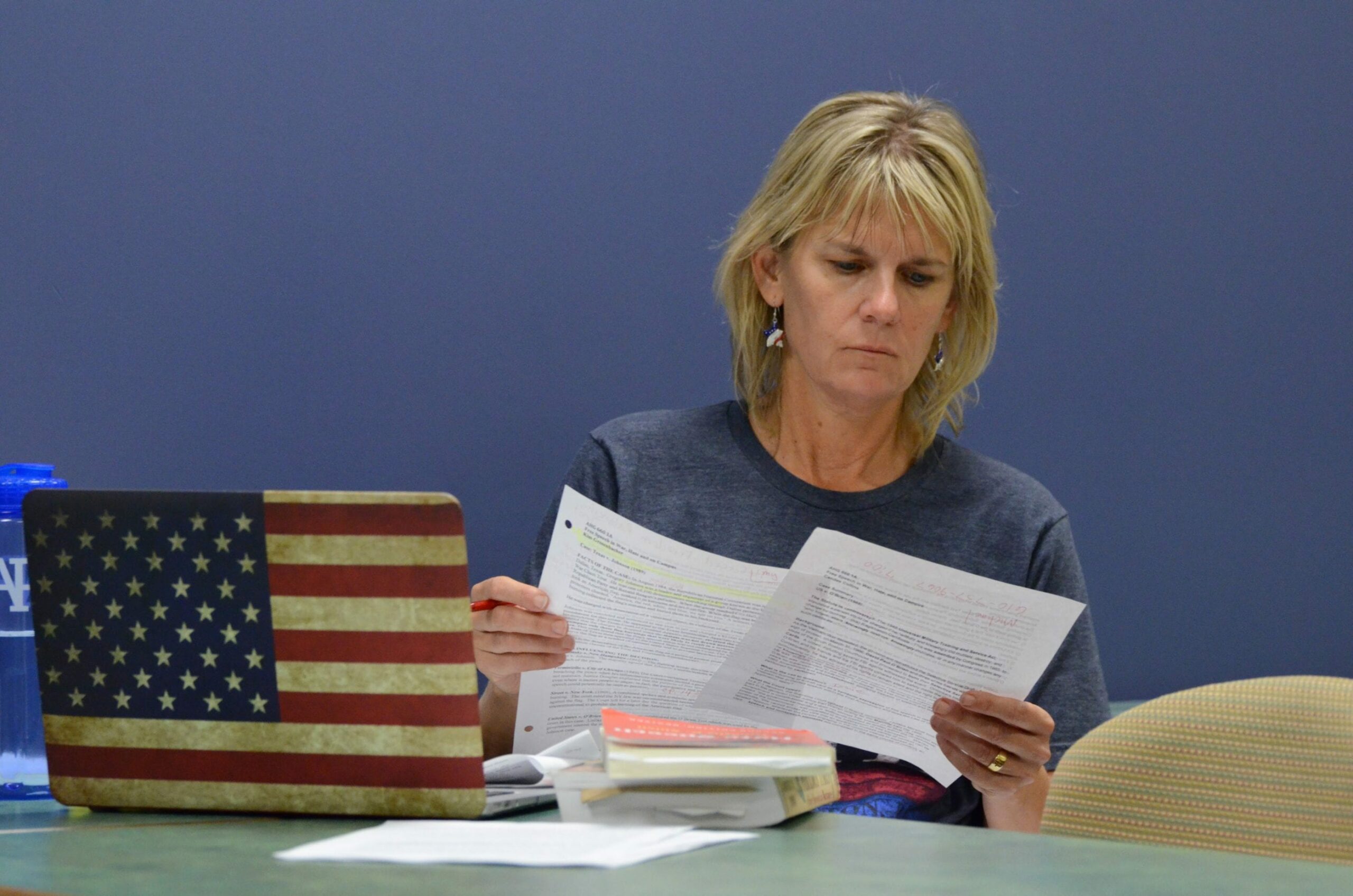 What We're Talking About: A MAHG Reading Roundup 4
Every summer, TeachingAmericanHistory brings together scholars and teachers from around the nation to our campus in Ashland to enjoy week-long seminars on focused topics in American history and government. These courses can be taken for graduate credit, or simply for your personal enrichment — some participants describe the experience as an "intellectual retreat" where they can enjoy both conversation and collegiality.
If you aren't able to join us in person this summer, we hope you'll consider joining us in spirit by checking out some of the myriad texts we'll be discussing. If you're reading along, we invite you to join the conversation using #TAHreading to share your thoughts!
---
Lucas Morel, GREAT AMERICAN TEXTS: RALPH ELLISON
My Ralph Ellison course will focus on his novel Invisible Man as a great American text. Although I supplement discussion of the novel with several of his essays and interviews, the course begins with discussion of one of his short stories, "In a Strange Country." Published in 1944, eight years before the publication of Invisible Man, the story illustrates some elements that will Ellison will employ in his great novel: irony, music, and interior monologue to name a few. More importantly, the plot raises questions about race, diversity, humanity, inclusion, and the meaning of America, in general, that Ellison will return to not only in his novel but throughout the rest of his writing career. The story involves a black American named Mr. Parker, who is on shore leave in Wales during World War II. The plot thickens quickly when he is mugged by a group of bigoted white American servicemen and rescued by a Welshman, who takes him to a pub to recover. They eventually spend the rest of the evening at the Welshman's private singing club. The harmony of the diverse Welshmen as they sing a variety of songs impresses Mr. Parker, who then is surprised and befuddled as they launch into the American national anthem, as they expect him to help them along. The story closes with his musing about "The Star-Spangled Banner," thoughts and feelings reeling, as he notes, "For the first time in your whole life, he thought with dreamlike wonder, the words are not ironic." What is the "strange land" of the story's title: Wales or America? For racial minorities, or any numerical minority, is an imperfect America worth fighting for? How can diversity be a strength rather than a weakness of a free society? These and other questions come readily to mind, demonstrating Ellison's close observations of American social and political life. See more of what we'll be reading on the class syllabus.
---
Thomas Bruscino: My recommendation is General Orders No. 100, Lieber's Code, 1863. It seems so banal–just a list of 157 articles, published with little fanfare and no preamble in 1863. Perhaps that is why General Orders No. 100 is not more well known. But a closer look at the code, written by Francis Lieber and issued by President Abraham Lincoln to govern armies in the field, reveals a document of remarkable importance and reach. General Orders No. 100 is one of the key documents in the laws of war, but more than that, it is the original American counterinsurgency manual, a wartime manifestation of the opposition to slavery built into the constitution, a guide to American principles of justice and fairness, and the fundamental expression of the American mind for war. As such, Lieber's Code is one of the most important documents in American and world history. It deserves careful reading, study, and deliberation. See more of what we'll be reading on the class syllabus.
---
Abraham Joshua Heschel (1907-1972), a philosopher and political actor, observes that many persons regard care for justice as someone else's task. Some persons, however, share in suffering in a way that moves them to awaken their communities to injustice. Harriet Jacobs (1813-1897) invites her audience to experience the pain of racial injustice in her account, Incidents in the Life of a Slave Girl. Her account makes fresh a phenomenon that familiarity sometimes render abstract.
An invitation to ethical sensitivity, the narrative highlights the phenomenon of what Heschel would later call indifference to evil. Specifically, she reveals how Americans have accepted as part of their political order the oppression of some persons on the basis of race. Through thoughtful storytelling, Jacobs summons readers to name practices that degrade persons. "These God-breathing machines are no more, in the sight of their masters, than the cotton they plant, or the horses they tend." She then shows the reader how an order contrived on racial inequality protects persons who commit sexual violence, breach her motherhood, and attack her practices of conscience and faith. The narrative creates a ringing awareness of the human capacity, whether consciously harsh or unconsciously habituated, to tolerate evil.
Jacobs concludes that the injustices she and others have experienced dehumanize both those who commit harm and those who suffer. As she unveils slavery, Jacobs beckons the reader with to consider its legacy in American political life today. She leaves the reader with a reminder of our common need for home along with a challenge to thoughtful action. See more of what we'll be reading on the class syllabus.
---
Jeremy Bailey and Marc Landy, THE AMERICAN PRESIDENCY II: JOHNSON TO THE PRESENT
Jeremy Bailey: My serious recommendation is easy. I was just on the American Political Science Association American Political Thought organized section book award committee. And the best was Jonathan Gienapp's Second Creation: Fixing the American Constitution (Harvard University Press:2o18) shows how the Constitution became "fixed" in the 1790's and regarded as a settled agreement with its own authority. Allen Guelzo's short Reconstruction (Oxford University Press: 2018) is also very good, as well as Daniel R' Rodger's history of the city on hill speech in As a City on a Hill: The Story of America's Most Famous Lay Sermon (Princeton).
My summer-y recommendation is Mark Synnott's The Impossible Climb: Alex Honnold, El Capitan, and the Climbing Life (Dutton), which gives a very good account of the free solo climb in the context of American climbing culture in the last several decades. For more recommendations on modern American politics, check out what we'll be reading in class on the syllabus.
---
Jason Jividen, THE PROGRESSIVES (online)
Charles E. Merriam (1874-1953) was a professor at the University of Chicago and an early leader in the twentieth century discipline of political science. He was also an influential public intellectual in the Progressive Movement. Often cited as one of the founders of the "behavioral approach" to political science, he argued against the usefulness of "mere" theory or formal law and institutions in understanding politics. Rather, Merriam claimed, political scientists ought to derive data from the behavior of political actors and subject these things to quantitative analysis. For Merriam, if it is to be in any way useful, political science also ought to help citizens, politicians, and administrators realize progressive social, economic, and political reform.
In his 1903 book, A History of American Political Theories, Merriam surveyed the historical development of American political principles and ideologies, and he saw this history as setting the stage for the Progressive Movement. In the eighth chapter, Merriam examined "recent tendencies" in contemporary social science research. Among these recent tendencies was the willingness of progressive scholars to reject many of the theoretical principles associated with the American Founding, e.g. the state of nature, natural rights, social contract theory, limited government, and separation of powers. Few standalone pieces highlight so succinctly the basic tenets of Progressivism and its critique of America's Founding principles. This piece is regularly taught across several sections of AHG 505 (The Progressive Movement).
---
Ken Masugi, THE LINCOLN-DOUGLAS DEBATES (online)
My favorite Abraham Lincoln speech to teach (next to the Gettysburg Address) is his Temperance Address. With our current increase in caustic political exchanges, its penetrating (and witty) reflections on social and political extremism are most instructive.
The Temperance Address was delivered on February 22, 1842 in a church at a meeting of the Washingtonian Society, a recently organized group of reformed alcoholics. Lincoln used the occasion of Washington's Birthday to praise the Washingtonians for their rational persuasion in gaining members. He reminds a greater audience that such rhetoric is essential for self-government. In moving citizens toward a candidate or policies, persuasive speech, which appeals to self-interest, is the alternative to force. Hellfire and damnation preaching promotes civil war.
Throughout his political career Lincoln would use the rhetorical principles of the Temperance Address to teach supporters of noble causes, such as the abolition of slavery, how best to advance them. In its argument and the action Lincoln sobers us up for the duty of self-government. Among the moral and political vices, being drunk on power is possibly the worse.
I will teach this speech in my late August course on the Lincoln-Douglas Debates. See more of what we'll be reading on the class syllabus.