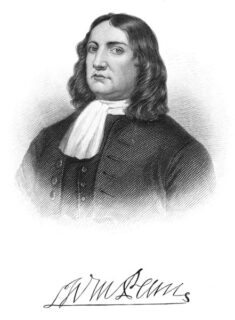 William Penn Introduces Popular Sovereignty, and Pennsylvanians Ask for More
When William Penn was given a large tract of land in North America from the English crown, he decided to found a settlement based in his Quaker principles of freedom of conscience and the equality of men. His original design for the government of Pennsylvania, the 1682 "Pennsylvania Frame of Government," is remarkable for its time in its granting of religious toleration to all monotheists and its allowance that Christians of any sect be officeholders. His plan also made careful rules for the administration of justice and provided for an elected assembly that would vote on taxes to be levied. Although Penn retained a veto power for himself and successive governors, he had opened the way for colonists to undertake a degree of self-rule.
Thus encouraged, Pennsylvanians began to press for adjustments to Penn's plan that, they argued, better suited their circumstances. In October 1701 Penn agreed to grant a revised "Charter of Privileges . . . to the Inhabitants of Pennsylvania and Territories." This document served as a constitution for the colony until the time of the Revolution. It specified particular rules for the election of Assembly members and for its meeting times. It allowed for the local election of nominees for coroner and sheriff, with the Governor choosing among the offered candidates, and it restricted the Governor's power to grant licenses, intervene in the justice system, or seize property. It stipulated that any changes to the charter must be approved by "the Governor for the time being and six parts of seven of the Assembly met." But Penn insisted on making the allowance for "liberty of conscience" irrevocable even by this super majority.
The Frame of Government is part of the story of the growth of liberty in the American colonies.  As the occasion for disputes between Pennsylvania colonists and their British governing authority, it is also part of the story of the growing independence of the colonies.