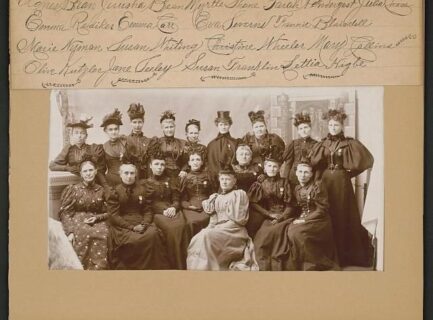 Women's Rights & Roles: The Moral Reformers
In anticipation of the 100th anniversary of the ratification of the 19th Amendment granting women the right to vote (which became part of the Constitution on August 18, 1920), from August 2019 – August 2020, we will be highlighting documents both here and on our sister site, Religion In America written by or about women.
This month, we feature documents from women in the antebellum period of American history that offer arguments in favor of public moral reform.
As a young woman Foote had her first encounter with advocates of the emerging theology of "immediate sanctification." Sometimes also known as Christian perfectionism, or simply, Holiness, this is the belief that believers can experience a second encounter with the Holy Spirit in which they are cleansed from even the temptation to sin in this world; its proponents believe that this second baptism enables believers to live in full obedience to the law of God and thus, place a great deal of emphasis on personal piety and moralism. Foote became convinced of the truth of this teaching, and in her autobiography, recounts her own experience of sanctification and her subsequent call to spread the Holiness message to others.
Afflicted with poor health her entire life, Mary Baker Eddy claimed never to have experienced true relief until she became convinced of the sole efficacy of faith healing in the mid-1860s. By 1875, she was ready to share her findings with others, publishing Science and Health, a veritable handbook for those who wished to practice the principles of what she was already calling "Christian Science" for themselves. The rejection of modern medical wisdom raised public health concerns; legislatures around the country responded by passing bills meant to limit the practice of Christian Science healers. In this excerpt, Eddy rejects such laws not on the grounds that they violated the right to the free exercise of religion, a position taken by later Christian Scientists in opposing vaccination laws, for example, but rather on the more sweeping charge that they are "human rights" violations.
Smith's account captures the flavor of "religious summer camp" expressed by others who attended such meetings from the late nineteenth through late twentieth centuries in America. Holiness movement adherents were sometimes criticized by fundamentalists for their hyper-emotionalism and inclination towards a doctrine of universal salvation but the two movements shared a tendency to withdraw from the larger society into an insular Christian community as the broader American culture became more secular and scientific. Note, however, that while Smith emphasizes the emotional high of her experience, she also cautions the reader against mistaking the intense emotions of such a "mountaintop moment" for genuine sanctification.
Ellen G. White, The Ministry of Healing (Washington, DC: Review and Herald Publishing Association, 1905).
Ellen Gould White (1827–1915) was among the followers of preacher William Miller, a Baptist minister who believed he had discovered that the Second Coming (or Advent) of Christ would occur in 1844. After the "non-event," White began to experience her own prophetic visions, transforming the remnant of Miller's followers (now known as Adventists) into a cohesive organization. Along with her husband and several other men, she co-founded the Seventh-day Adventist Church in 1863. As a result of her understanding of the "investigative judgment" with its emphasis on the "worthiness" of believers for salvation, White adopted a Christian perfectionist stance that stressed not only personal piety but also physical health and hygiene. In this excerpt from her book The Ministry of Healing, she urges abstinence from all stimulants, including spices, on the grounds that they unnaturally advance the decay of the body by conditioning it to a state of excitement that it was never intended to endure on an extended basis.