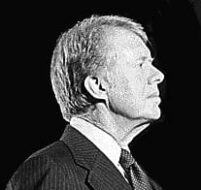 State of the Union Address Part II
No mentions of this document
There is also a need to modernize and expand the dry bulk segment of our fleet. Our heavy dependence on foreign carriage of U.S.-bulk cargoes deprives the U.S. economy of seafaring and shipbuilding jobs, adds to the balance-of-payments deficit, deprives the Government of substantial tax revenues, and leaves the United States dependent on foreign-flag shipping for a continued supply of raw materials to support the civil economy and war production in time of war.
I therefore sent to the Congress proposed legislation to strengthen this woefully weak segment of the U.S.-flag fleet by removing certain disincentives to U.S. construction of dry bulkers and their operation under U.S. registry. Enactment of this proposed legislation would establish the basis for accelerating the rebuilding of the U.S.-flag dry bulk fleet toward a level commensurate with the position of the United States as the world's leading bulk trading country.
During the past year the Administration has stated its support for legislation that would provide specific Federal assistance for the installation of fuel-efficient engines in existing American ships, and would strengthen this country's shipbuilding mobilization base. Strengthening the fleet is important, but we must also maintain our shipbuilding base for future ship construction.
Provisions in existing laws calling for substantial or exclusive use of American-flag vessels to carry cargoes generated by the Government must be vigorously pursued.
I have therefore supported requirements that 50 percent of oil purchased for the strategic petroleum reserve be transported in U.S.-flag vessels, that the Cargo Preference Act be applied to materials furnished for the U.S. assisted construction of air bases in Israel, and to cargoes transported pursuant to the Chrysler Corporation Loan Guarantee Act. In addition, the deep Seabed Hard Mineral Resources Act requires that at least one ore carrier per mine site be a U.S.-flag vessel.
Much has been done, and much remains to be done. The FY 1982 budget includes a $107 million authorization for Construction Differential Subsidy ("CDS") funds which, added to the unobligated CDS balance of $100 million from 1980, and the recently enacted $135 million 1981 authorization, will provide an average of $171 million in CDS funds in 1981 and 1982.
COAL EXPORT POLICY
While significant growth in foreign demand for U.S. steam coal is foreseen, congestion at major U.S. coal exporting ports such as Hampton Roads, Virginia, and Baltimore, Maryland, could delay and impede exports.
My Administration has worked through the Interagency Coal Task Force Study, which I created, to promote cooperation and coordination of resources between shippers, railroads, vessel broker/ operators and port operators, and to determine the most appropriate Federal role in expanding and modernizing coal export facilities, including dredging deeper channels at selected ports.
Some progress has already been made. In addition to action taken by transshippers to reduce the number of coal classifications used whenever possible, by the Norfolk and Western Railroad to upgrade its computer capability to quickly inventory its coal cars in its yards, and by the Chessie Railroad which is reactivating Pier 15 in Newport News and has established a berth near its Curtis Bay Pier in Baltimore to decrease delays in vessel berthing, public activities will include:
—A $26.5 million plan developed by the State of Pennsylvania and Conrail to increase Conrail's coal handling capacity at Philadelphia;
—A proposal by the State of Virginia to construct a steam coal port on the Craney Island Disposal area in Portsmouth harbor;
—Plans by Mobile, Alabama, which operates the only publicly owned coal terminal in the U.S. to enlarge its capacity at McDuffie Island to 10 million tons ground storage and 100 car unit train unloading capability;
—Development at New Orleans of steam coal facilities that are expected to add over 20 million tons of annual capacity by 1983; and
—The Corps of Engineers, working with other interested Federal agencies, will determine which ports should be dredged, to what depth and on what schedule, in order to accommodate larger coal carrying vessels.
Private industry will, of course, play a major role in developing the United States' coal export facilities. The new Administration should continue to work to eliminate transportation bottlenecks that impede our access to foreign markets.
Special Needs
WOMEN
The past four years have been years of rapid advancement for women. Our focus has been two-fold: to provide American women with a full range of opportunities and to make them a part of the mainstream of every aspect of our national life and leadership.
I have appointed a record number of women to judgeships and to top government posts. Fully 22 percent of all my appointees are women, and I nominated 41 of the 46 women who sit on the Federal bench today. For the first time in our history, women occupy policymaking positions at the highest level of every Federal agency and department and have demonstrated their ability to serve our citizens well.
We have strengthened the rights of employed women by consolidating and strengthening enforcement of sex discrimination laws under the EEOC, by expanding employment rights of pregnant women through the Pregnancy Disability Bill, and by increasing federal employment opportunities for women through civil service reform, and flexi-time and part-time employment.
By executive order, I created the first national program to provide women business owners with technical assistance, grants, loans, and improved access to federal contracts.
We have been sensitive to the needs of women who are homemakers. I established an Office of Families within HHS and sponsored the White House Conference on Families. We initiated a program targeting CETA funds to help displaced homemakers. The Social Security system was amended to eliminate the widow's penalty and a comprehensive study of discriminatory provisions and possible changes was presented to Congress. Legislation was passed to give divorced spouses of foreign service officers rights to share in pension benefits.
We created an office on domestic violence within HHS to coordinate the 12 agencies that now have domestic violence relief programs, and to distribute information on the problem and the services available to victims.
Despite a stringent budget for FY 1981, the Administration consistently supported the Women's Educational Equity Act and family planning activities, as well as other programs that affect women, such as food stamps, WIC, and social security.
We have been concerned not only about the American woman's opportunities, but ensuring equality for women around the world. In November, 1980, I sent to the Senate the Convention on the Elimination of All Forms of Discrimination Against Women. This United Nations document is the most comprehensive and detailed international agreement which seeks the advancement of women.
On women's issues, I have sought the counsel of men and women in and out of government and from all regions of our country. I established two panels— the President's Advisory Committee for Women and the Interdepartmental Task Force on Women—to advise me on these issues. The mandate for both groups expired on December 31, but they have left behind a comprehensive review of the status of women in our society today. That review provides excellent guidance for the work remaining in our battle against sex discrimination.
Even though we have made progress, much remains on the agenda for women. I remain committed to the Equal Rights Amendment and will continue to work for its passage. It is essential to the goal of bringing America's women fully into the mainstream of American life that the ERA be ratified.
The efforts begun for women in employment, business and education should be continued and strengthened. Money should be available to states to establish programs to help the victims of domestic violence. Congress should pass a national health care plan and a welfare reform program, and these measures should reflect the needs of women.
The talents of women should continue to be used to the fullest inside and outside of government, and efforts should continue to see that they have the widest range of opportunities and options.
HANDICAPPED
I hope that my Administration will be remembered in this area for leading the way toward full civil rights for handicapped Americans. When I took office, no federal agency had yet issued 504 regulations. As I leave office, this first step by every major agency and department in the federal government is almost complete. But it is only a first step. The years ahead will require steadfast dedication by the President to protect and promote these precious rights in the classroom, in the workplace, and in all public facilities so that handicapped individuals may join the American mainstream and contribute to the fullest their resources and talents to our economic and social life.
Just as we supported, in an unprecedented way, the civil rights of disabled persons in schools and in the workplace, other initiatives in health prevention, such as our immunization and nutrition programs for young children and new intense efforts to reverse spinal cord injury, must continue so that the incidence of disability continues to decline.
This year is the U.N.-declared International Year of Disabled Persons. We are organizing activities to celebrate and promote this important commemorative year within the government as well as in cooperation with private sector efforts in this country and around the world. The International Year will give our country the opportunity to recognize the talents and capabilities of our fellow citizens with disabilities. We can also share our rehabilitation and treatment skills with other countries and learn from them as well. I am proud that the United States leads the world in mainstreaming and treating disabled people. However, we have a long way to go before all psychological and physical barriers to disabled people are torn down and they can be full participants in our American way of life. We must pledge our full commitment to this goal during the International Year.
FAMILIES
Because of my concern for American families, my Administration convened last year the first White House Conference on Families which involved seven national hearings, over 506 state and local events, three White House Conferences, and the direct participation of more than 125,000 citizens. The Conference reaffirmed the centrality of families in our lives and nation but documented problems American families face as well. We also established the Office of Families within the Department of Health and Human Services to review government policies and programs that affect families.
I expect the departments and agencies within the executive branch of the Federal government as well as Members of Congress, corporate and business leaders, and State and local officials across the country, to study closely the recommendations of the White House Conference and implement them appropriately. As public policy is developed and implemented by the Federal government, cognizance of the work of the Conference should be taken as a pragmatic and essential step.
The Conference has done a good job of establishing an agenda for action to assure that the policies of the Federal government are more sensitive in their impact on families. I hope the Congress will review and seriously consider the Conference's recommendations.
OLDER AMERICANS
My Administration has taken great strides toward solving the difficult problems faced by older Americans. Early in my term we worked successfully with the Congress to assure adequate revenues for the Social Security Trust Funds. And last year the strength of the Social Security System was strengthened by legislation I proposed to permit borrowing among the separate trust funds. I have also signed into law legislation prohibiting employers from requiring retirement prior to age 70, and removing mandatory retirement for most Federal employees. In addition, my Administration worked very closely with Congress to amend the Older Americans Act in a way that has already improved administration of its housing, social services, food delivery, and employment programs.
This year, I will be submitting to Congress a budget which again demonstrates my commitment to programs for the elderly. It will include, as my previous budgets have, increased funding for nutrition, senior centers and home health care, and will focus added resources on the needs of older Americans.
With the 1981 White House Conference on Aging approaching, I hope the new Administration will make every effort to assure an effective and useful conference. This Conference should enable older Americans to voice their concerns and give us guidance in our continued efforts to ensure the quality of life so richly deserved by our senior citizens.
REFUGEES
We cannot hope to build a just and humane society at home if we ignore the humanitarian claims of refugees, their lives at stake, who have nowhere else to turn. Our country can be proud that hundreds of thousands of people around the world would risk everything they have—including their own lives—to come to our country.
This Administration initiated and implemented the first comprehensive reform of our refugee and immigration policies in over 25 years. We also established the first refugee coordination office in the Department of State under the leadership of a special ambassador and coordinator for refugee affairs and programs. The new legislation and the coordinator's office will bring common sense and consolidation to our Nation's previously fragmented, inconsistent, and in many ways, outdated, refugee and immigration policies.
With the unexpected arrival of thousands of Cubans and Haitians who sought refuge in our country last year, outside of our regular immigration and refugee admissions process, our country and its government were tested in being compassionate and responsive to a major human emergency. Because we had taken steps to reorganize our refugee programs, we met that test successfully. I am proud that the American people responded to this crisis with their traditional good will and hospitality. Also, we would never have been able to handle this unprecedented emergency without the efforts of the private resettlement agencies who have always been there to help refugees in crises.
Immigrants to this country always contribute more toward making our country stronger than they ever take from the system. I am confident that the newest arrivals to our country will carry on this tradition.
While we must remain committed to aiding and assisting those who come to our shores, at the same time we must uphold our immigration and refugee policies and provide adequate enforcement resources. As a result of our enforcement policy, the illegal flow from Cuba has been halted and an orderly process has been initiated to make certain that our refugee and immigration laws are honored.
This year the Select Commission on Immigration and Refugee Policy will complete its work and forward its advice and recommendations. I hope that the recommendations will be carefully considered by the new Administration and the Congress, for it is clear that we must take additional action to keep our immigration policy responsive to emergencies and ever changing times.
VETERANS
This country and its leadership has a continuing and unique obligation to the men and women who served their nation in the armed forces and help maintain or restore peace in the world.
My commitment to veterans, as evidenced by my record, is characterized by a conscientious and consistent emphasis in these general areas:
First, we have worked to honor the Vietnam veteran. During my Administration, and under the leadership of VA Administrator Max Cleland, I was proud to lead our country in an overdue acknowledgement of our Nation's gratitude to the men and women who served their country during the bitter war in Southeast Asia. Their homecoming was deferred and seemed doomed to be ignored. Our country has matured in the last four years and at long last we were able to separate the war from the warrior and honor these veterans. But with our acknowledgement of their service goes an understanding that some Vietnam veterans have unique needs and problems.
My Administration was able to launch a long sought after psychological readjustment and outreach program, unprecedented in its popularity, sensitivity and success. This program must be continued. The Administration has also grappled with the difficult questions posed by some veterans who served in Southeast Asia and were exposed to potentially harmful substances, including the herbicide known as Agent Orange. We have launched scientific inquiries that should answer many veterans' questions about their health and should provide the basis for establishing sound compensation policy. We cannot rest until their concerns are dealt with in a sensitive, expeditious and compassionate fashion.
Second, we have focused the VA health care system in the needs of the service-connected disabled veteran. We initiated and are implementing the first reform of the VA vocational rehabilitation system since its inception in 1943. Also, my Administration was the first to seek a cost-of-living increase for the recipients of VA compensation every year. My last budget also makes such a request. The Administration also launched the Disabled Veterans Outreach Program in the Department of Labor which has successfully placed disabled veterans in jobs. Services provided by the VA health care system will be further targeted to the special needs of disabled veterans during the coming year.
Third, the VA health care system, the largest in the free world, has maintained its independence and high quality during my Administration. We have made the system more efficient and have therefore treated more veterans than ever before by concentrating on out-patient care and through modern management improvements. As the median age of the American veteran population increases, we must concentrate on further changes within the VA system to keep it independent and to serve as a model to the nation and to the world as a center for research, treatment and rehabilitation.
Government Assistance
GENERAL AID TO STATE AND LOCAL GOVERNMENTS
Since taking office, I have been strongly committed to strengthening the fiscal and economic condition of our Nation's State and local governments. I have accomplished this goal by encouraging economic development of local communities, and by supporting the General Revenue Sharing and other essential grant-in-aid programs.
GRANTS-IN-AID TO STATES AND LOCALITIES
During my Administration, total grants-in-aid to State and local governments have increased by more than 40 percent, from $68 billion in Fiscal Year 1977 to $96 billion in Fiscal Year 1981. This significant increase in aid has allowed States and localities to maintain services that are essential to their citizens without imposing onerous tax burdens. It also has allowed us to establish an unprecedented partnership between the leaders of the Federal government and State and local government elected officials.
GENERAL REVENUE SHARING
Last year Congress enacted legislation that extends the General Revenue Sharing program for three more years. This program is the cornerstone of our efforts to maintain the fiscal health of our Nation's local government. It will provide $4.6 billion in each of the next three years to cities, counties and towns. This program is essential to the continued ability of our local governments to provide essential police, fire and sanitation services.
This legislation renewing GRS will be the cornerstone of Federal-State-local government relations in the 1980's. This policy will emphasize the need for all levels of government to cooperate in order to meet the needs of the most fiscally strained cities and counties, and also will emphasize the important role that GRS can play in forging this partnership. I am grateful that Congress moved quickly to assure that our Nation's localities can begin the 1980's in sound fiscal condition.
COUNTER-CYCLICAL ASSISTANCE
Last year, I proposed that Congress enact a $1 billion counter-cyclical fiscal assistance program to protect States and localities from unexpected changes in the national economy. This program unfortunately was not enacted by the [full] Congress. I, therefore, have not included funding for counter-cyclical aid in my Fiscal Year 1982 budget. Nevertheless, I urge Congress to enact a permanent stand-by counter-cyclical program, so that States and cities can be protected during the next economic downturn.
URBAN POLICY
Three years ago, I proposed the Nation's first comprehensive urban policy. That policy involved more than one hundred improvements in existing Federal programs, four new Executive Orders and nineteen pieces of urban-oriented legislation. With Congress' cooperation, sixteen of these bills have now been signed into law.
ECONOMIC DEVELOPMENT
One of the principal goals of my domestic policy has been to strengthen the private sector economic base of our Nation's economically troubled urban and rural areas. With Congress' cooperation, we have substantially expanded the Federal government's economic development programs and provided new tax incentives for private investment in urban and rural communities. These programs have helped many communities to attract new private sector jobs and investments and to retain the jobs and investments that already are in place.
When I took office, the Federal government was spending less than $300 million annually on economic development programs, and only $60 million of those funds in our Nation's urban areas. Since that time, we have created the Urban Development Action Grant (UDAG) program and substantially expanded the economic development programs in the Commerce Department. My FY 1982 budget requests more than $1.5 billion for economic development grants, loans and interest subsidies and almost $1.5 billion for loan guarantees. Approximately 60 percent of these funds will be spent in our Nation's urban areas. In addition, we have extended the 10 percent investment credit to include rehabilitation of existing industrial facilities as well as new construction.
I continue to believe that the development of private sector investment and jobs is the key to revitalizing our Nation's economically depressed urban and rural areas. To ensure that the necessary economic development goes forward, the Congress must continue to provide strong support for the UDAG program and the programs for the Economic Development Administration. Those programs provide a foundation for the economic development of our Nation in the 1980's.
COMMUNITY DEVELOPMENT
The partnership among Federal, State and local governments to revitalize our Nation's communities has been a high priority of my Administration. When I took office, I proposed a substantial expansion of the Community Development Block Grant (CDBG) program and the enactment of a new $400 million Urban Development Action Grant (UDAG) program. Both of these programs have provided essential community and economic development assistance to our Nation's cities and counties.
Last year, Congress reauthorized both the CDBG and UDAG programs. The CDBG program was reauthorized for three more years with annual funding increases of $150 million, and the UDAG program was extended for three years at the current funding level of $675 million annually. My 1982 budget requests full funding for both of these programs. These actions should help our Nation's cities and counties to continue the progress they have made in the last three years.
NEIGHBORHOODS
During my Administration we have taken numerous positive steps to achieve a full partnership of neighborhood organizations and government at all levels. We have successfully fought against red lining and housing discrimination. We created innovative Self Help funding and technical resource transfer mechanisms. We have created unique methods of access for neighborhood organizations to have a participating role in Federal and State government decision-making. Neighborhood based organizations are the threshold of the American community.
The Federal government will need to develop more innovative and practical ways for neighborhood based organizations to successfully participate in the identification and solution of local and neighborhood concerns. Full partnership will only be achieved with the knowing participation of leaders of government, business, education and unions. Neither state nor Federal solutions imposed from on high will suffice. Neighborhoods are the fabric and soul of this great land. Neighborhoods define the weave that has been used to create a permanent fabric. The Federal government must take every opportunity to provide access and influence to the individuals and organizations affected at the neighborhood level.
Rural Policy
Since the beginning of my Administration, I have been committed to improving the effectiveness with which the Federal government deals with the problems and needs of a rapidly changing rural America. The rapid growth of some rural areas has placed a heavy strain on communities and their resources. There are also persistent problems of poverty and economic stagnation in other parts of rural America. Some rural areas continue to lose population, as they have for the past several decades.
In December, 1979, I announced the Small Community and Rural Development Policy. It was the culmination of several years' work and was designed to address the varying needs of our rural population. In 1980, my Administration worked with the Congress to pass the Rural Development Policy Act of 1980, which when fully implemented will allow us to meet the needs of rural people and their communities more effectively and more efficiently.
As a result of the policy and the accompanying legislation, we have:
—Created the position of Under Secretary of Agriculture for Small Community and Rural Development to provide overall leadership.
—Established a White House Working Group to assist in the implementation of the policy.
—Worked with more than 40 governors to form State rural development councils to work in partnership with the White House Working Group, and the Federal agencies, to better deliver State and Federal programs to rural areas.
—Directed the White House Working Group to annually review existing and proposed policies, programs, and budget levels to determine their adequacy in meeting rural needs and the fulfilling of the policy's objectives and principles.
This effort on the part of my Administration and the Congress has resulted in a landmark policy. For the first time, rural affairs has received the prominence it has always deserved. It is a policy that can truly help alleviate the diverse and differing problems rural America will face in the 1980's.
With the help and dedication of a great many people around the country who are concerned with rural affairs, we have constructed a mechanism for dealing effectively with rural problems. There is now a great opportunity to successfully combine Federal efforts with the efforts of rural community leaders and residents. It is my hope this spirit of cooperation and record of accomplishment will be continued in the coming years.
CONSUMERS
In September, 1979, I signed an Executive Order designed to strengthen and coordinate Federal consumer programs and to establish procedures to improve and facilitate consumer participation in government decision-making. Forty Federal agencies have adopted programs to comply with the requirements of the Order. These programs will improve complaint handling, provide better information to consumers, enhance opportunities for public participation in government proceedings, and assure that the consumer point of view is considered in all programs, policies, and regulations.
While substantial progress has been made in assuring a consumer presence in Federal agencies, work must continue to meet fully the goals of the Executive Order. Close monitoring of agency compliance with the requirements of the Order is necessary. Continued evaluation to assure that the programs are effective and making maximum use of available resources is also essential. As a complement to these initiatives, efforts to provide financial assistance in regulatory proceedings to citizen groups, small businesses, and others whose participation is limited by their economic circumstances must continue to be pursued.
It is essential that consumer representatives in government pay particular attention to the needs and interests of low-income consumers and minorities. The Office of Consumer Affairs' publication, "People Power: What Communities Are Doing to Counter Inflation," catalogues some of the ways that government and the private sector can assist the less powerful in our society to help themselves. New ways should be found to help foster this new people's movement which is founded on the principle of self-reliance.
Science and Technology
Science and technology contribute immeasurably to the lives of all Americans. Our high standard of living is largely the product of the technology that surrounds us in the home or factory. Our good health is due in large part to our ever increasing scientific understanding. Our national security is assured by the application pate science and technology will bring.
The Federal government has a special role to play in science and technology. Although the fruits of scientific achievements surround us, it is often difficult to predict the benefits that will arise from a given scientific venture. And these benefits, even if predictable, do not usually lead to ownership rights. Accordingly, the Government has a special obligation to support science as an investment in our future.
My Administration has sought to reverse a decade-long decline in funding. Despite the need for fiscal restraint, real support of basic research has grown nearly 11% during my term in office. And, my Administration has sought to increase the support of long-term research in the variety of mission agencies. In this way, we can harness the American genius for innovation to meet the economic, energy, health, and security challenges that confront our nation.
—International Relations and National Security. Science and technology are becoming increasingly important elements of our national security and foreign policies. This is especially so in the current age of sophisticated defense systems and of growing dependence among all countries on modern technology for all aspects of their economic strength. For these reasons, scientific and technological considerations have been integral elements of the Administration's decision-making on such national security and foreign policy issues as the modernization of our strategic weaponry, arms control, technology transfer, the growing bilateral relationship with China, and our relations with the developing world.
Four themes have shaped U.S. policy in international scientific and technological cooperation: pursuit of new international initiatives to advance our own research and development objectives; development and strengthening of scientific exchange to bridge politically ideological, and cultural divisions between this country and other countries; formulation of programs and institutional relations to help developing countries use science and technology beneficially; and cooperation with other nations to manage technologies with local impact. At my direction, my Science and Technology Adviser has actively pursued international programs in support of these four themes. We have given special attention to scientific and technical relations with China, to new forms of scientific and technical cooperation with Japan, to cooperation with Mexico, other Latin American and Caribbean countries and several states in Black America, and to the proposed Institute for Scientific and Technological Cooperation.
In particular our cooperation with developing countries reflects the importance that each of them has placed on the relationship between economic growth and scientific and technological capability. It also reflects their view that the great strength of the U.S. in science and technology makes close relations with the U.S. technical community an especially productive means of enhancing this capability. Scientific and technological assistance is a key linkage between the U.S. and the developing world, a linkage that has been under-utilized in the past and one which we must continue to work to strengthen.
—Space Policy. The Administration has established a framework for a strong and evolving space program for the 1980's.
The Administration's space policy reaffirmed the separation of military space systems and the open civil space program, and at the same time, provided new guidance on technology transfer between the civil and military programs. The civil space program centers on three basic tenets: First, our space policy will reflect a balanced strategy of applications, science, and technology development. Second, activities will be pursued when they can be uniquely or more efficiently accomplished in space. Third, a premature commitment to a high challenge, space-engineering initiative of the complexity of Apollo is inappropriate. As the Shuttle development phases down, however, there will be added flexibility to consider new space applications, space science and new space exploration activities.
—Technology Development. The Shuttle dominates our technology development effort and correctly so. It represents one of the most sophisticated technological challenges ever undertaken, and as a result, has encountered technical problems. Nonetheless, the first manned orbital flight is now scheduled for March, 1981. I have been pleased to support strongly the necessary funds for the Shuttle throughout my Administration.
—Space Applications. Since 1972, the U.S. has conducted experimental civil remote sensing through Landsat satellites, thereby realizing many successful applications. Recognizing this fact, I directed the implementation of an operational civil land satellite remote sensing system, with the operational management responsibility in Commerce's National Oceanic and Atmospheric Administration. In addition, because ocean observations from space can meet common civil and military data requirements, a National Oceanic Satellite System has been proposed as a major FY 1981 new start.
—Space Science Exploration. The goals of this Administration's policy in space science have been to: (1) continue a vigorous program of planetary exploration to understand the origin and evolution of the solar system; (2) utilize the space telescope and free-flying satellites to usher in a new era of astronomy; (3) develop a better understanding of the sun and its interaction with the terrestrial environment; and (4) utilize the Shuttle and Spacelab to conduct basic research that complements earth-based life science investigations.
DISTRICT OF COLUMBIA
Washington, D.C., is home to both the Federal Government and to more than half a million American citizens. I have worked to improve the relationship between the Federal establishment and the Government of the District of Columbia in order to further the goals and spirit of home rule. The City controls more of its own destiny than was the case four years ago. Yet, despite the close cooperation between my Administration and that of Mayor Barry, we have not yet seen the necessary number of states ratify the Constitutional Amendment granting full voting representation in the Congress to the citizens of this city. It is my hope that this inequity will be rectified. The country and the people who inhabit Washington deserve no less.
THE ARTS
The arts are a precious national resource.
Federal support for the arts has been enhanced during my Administration by expanding government funding and services to arts institutions, individual artists, scholars, and teachers through the National Endowment for the Arts. We have broadened its scope and reach to a more diverse population. We have also reactivated the Federal Council on the Arts and Humanities.
It is my hope that during the coming years the new Administration and the Congress will:
—Continue support of institutions promoting development and understanding of the arts;
—Encourage business participants in a comprehensive effort to achieve a truly mixed economy of support for the arts;
—Explore a variety of mechanisms to nurture the creative talent of our citizens and build audiences for their work;
—Support strong, active National Endowments for the Arts;
—Seek greater recognition for the rich cultural tradition of the nation's minorities;
—Provide grants for the arts in low-income neighborhoods.
THE HUMANITIES
In recently reauthorizing Federal appropriations for the National Endowment for the Humanities, the Congress has once again reaffirmed that "the encouragement and support of national progress and scholarship in the humanities . . . while primarily a matter for private and local initiative, is also an appropriate matter of concern to the Federal Government" and that "a high civilization must not limit its efforts to science and technology alone but must give full value and support to the other great branches of man's scholarly and cultural activity in order to achieve a better understanding of the past, a better analysis of the present, and a better view of the future."
I believe we are in agreement that the humanities illuminate the values underlying important personal, social, and national questions raised in our society by its multiple links to and increasing dependence on technology, and by the diverse heritage of our many regions and ethnic groups. The humanities cast light on the broad issue of the role in a society of men and women of imagination and energy—those individuals who through their own example define "the spirit of the age," and in so doing move nations. Our Government's support for the humanities, within the framework laid down by the Congress, is a recognition of their essential nourishment of the life of the mind and vital enrichment of our national life.
I will be proposing an increase in funding this year sufficient to enable the Endowment to maintain the same level of support offered our citizens in Fiscal Year 1981.
In the allocation of this funding, special emphasis will be given to:
—Humanities education in the nation's schools, in response to the great needs that have arisen in this area;
—Scholarly research designed to increase our understanding of the cultures, traditions, and historical forces at work in other nations and in our own;
—Drawing attention to the physical disintegration of the raw material of our cultural heritage—books, manuscripts, periodicals, and other documents—and to the development of techniques to prevent the destruction and to preserve those materials; and
—The dissemination of quality programming in the humanities to increasingly large American audiences through the use of radio and television.
The dominant effort in the Endowment's expenditures will be a commitment to strengthen and promulgate scholarly excellence and achievement in work in the humanities in our schools, colleges, universities, libraries, museums and other cultural institutions, as well as in the work of individual scholars or collaborative groups engaged in advanced research in the humanities.
In making its grants the Endowment will increase its emphasis on techniques which stimulate support for the humanities from non-Federal sources, in order to reinforce our tradition of private philanthropy in this field, and to insure and expand the financial viability of our cultural institutions and life.
INSULAR AREAS
I have been firmly committed to self-determination for Puerto Rico, the Virgin Islands, Guam, American Samoa and the Northern Mariana Islands, and have vigorously supported the realization of whatever political status aspirations are democratically chosen by their peoples. This principle was the keystone of the comprehensive territorial policy I sent the Congress last year. I am pleased that most of the legislative elements of that policy were endorsed by the 96th Congress.
The unique cultures, fragile economies, and locations of our Caribbean and Pacific Islands are distinct assets to the United States which require the sensitive application of policy. The United States Government should pursue initiatives begun by my Administration and the Congress to stimulate insular economic development; enhance treatment under Federal programs eliminating current inequities; provide vitally needed special assistance and coordinate and rationalize policies. These measures will result in greater self-sufficiency and balanced growth. In particular, I hope that the new Congress will support funding for fiscal management, comprehensive planning and other technical assistance for the territories, as well as create the commission I have proposed to review the applicability of all Federal laws to the insular areas and make recommendations for appropriate modification.
IV. REMOVING GOVERNMENTAL WASTE AND INEFFICIENCY
One of my major commitments has been to restore public faith in our Federal government by cutting out waste and inefficiency. In the past four years, we have made dramatic advances toward this goal, many of them previously considered impossible to achieve. Where government rules and operations were unnecessary, they have been eliminated, as with airline, rail, trucking and financial deregulation. Where government functions are needed, they have been streamlined, through such landmark measures as the Civil Service Reform Act of 1978. I hope that the new administration and the Congress will keep up the momentum we have established for effective and responsible change in this area of crucial public concern.
CIVIL SERVICE REFORM
In March 1978, I submitted the Civil Service Reform Act to Congress. I called it the centerpiece of my efforts to reform and reorganize the government. With bipartisan support from Congress, the bill passed, and I am pleased to say that implementation is running well ahead of the statutory schedule. Throughout the service, we are putting into place the means to assure that reward and retention are based on performance and not simply on length of time on the job. In the first real test of the Reform Act, 98 percent of the eligible top-level managers joined the Senior Executive Service, choosing to relinquish job protections for the challenge and potential reward of this new corps of top executives. Though the Act does not require several of its key elements to be in operation for another year, some Federal agencies already have established merit pay systems for GS-13-15 managers, and most agencies are well on their way to establishing new performance standards for all their employees. All have paid out, or are now in the process of paying out, performance bonuses earned by outstanding members of the Senior Executive Service. Dismissals have increased by 10 percent, and dismissals specifically for inadequate job performance have risen 1500 percent, since the Act was adopted. Finally, we have established a fully independent Merit Systems Protection Board and Special Counsel to protect the rights of whistle-blowers and other Federal employees faced with threats to their rights.
In 1981, civil service reform faces critical challenges, all agencies must have fully functioning performance appraisal systems for all employees, and merit pay systems for compensating the government's 130,000 GS-13-15 managers. Performance bonuses for members of the Senior Executive Service will surely receive scrutiny. If this attention is balanced and constructive, it can only enhance the chances for ultimate success of our bipartisan commitment to the revolutionary and crucial "pay for performance" concept.
REGULATORY REFORM
During the past four years we have made tremendous progress in regulatory reform. We have discarded old economic regulations that prevented competition and raised consumer costs, and we have imposed strong management principles on the regulatory programs the country needs, cutting paperwork and other wasteful burdens. The challenge for the future is to continue the progress in both areas without crippling vital health and safety programs.
Our economic deregulation program has achieved major successes in five areas:
Airlines: The Airline Deregulation Act is generating healthy competition, saving billions in fares, and making the airlines more efficient. The Act provides that in 1985 the CAB itself will go out of existence.
Trucking: The trucking deregulation bill opens the industry to competition and allows truckers wide latitude on the routes they drive and the goods they haul. The bill also phases out most of the old law's immunity for setting rates. The Congressional Budget Office estimates these reforms will save as much as $8 billion per year and cut as much as half a percentage point from the inflation rate.
Railroads: Overregulation has stifled railroad management initiative, service, and competitive pricing. The new legislation gives the railroads the freedom they need to rebuild a strong, efficient railroad industry.
Financial Institutions: With the help of the Congress, over the past four years we have achieved two major pieces of financial reform legislation, legislation which has provided the basis for the most far-reaching changes in the financial services industry since the 1930's. The International Banking Act of 1978 was designed to reduce the advantages that foreign banks operating in the United States possessed in comparison to domestic banks. The Depository Institutions Deregulation and Monetary Control Act, adopted last March, provides for the phased elimination of a variety of anti-competitive barriers to financial institutions and freedom to offer services to and attract the savings of consumers, especially small savers.
Recently, I submitted to the Congress my Administration's recommendations for the phased liberalization of restrictions on geographic expansion by commercial banks. Last year the Administration and financial regulatory agencies proposed legislation to permit the interstate acquisition of failing depository institutions. In view of the difficult outlook for some depository institutions I strongly urge the Congress to take prompt favorable action on the failing bank legislation.
Telecommunications: While Congress did not pass legislation in this area, the Federal Communications Commission has taken dramatic action to open all aspects of communications to competition and to eliminate regulations in the areas where competition made them obsolete. The public is benefitting from an explosion of competition and new services.
While these initiatives represent dramatic progress in economic deregulation, continued work is needed. I urge Congress to act on communications legislation and to consider other proposed deregulation measures, such as legislation on the bus industry. In addition, the regulatory commissions must maintain their commitment to competition as the best regulator of all.
The other part of my reform program covers the regulations that are needed to protect the health, safety, and welfare of our citizens. For these regulations, my Administration has created a management program to cut costs without sacrificing goals. Under my Executive Order 12044, we required agencies to analyze the costs of their major new rules and consider alternative approaches, such as performance standards and voluntary codes, that may make rules less costly and more flexible. We created the Regulatory Analysis Review Group in the White House to analyze the most costly proposed new rules and find ways to improve them. The Regulatory Council was established to provide the first Government-wide listing of upcoming rules and eliminate overlapping and conflicting regulations. Agencies have launched "sunset" programs to weed out outmoded old regulations. We have acted to encourage public participation in regulatory decision-making.
These steps have already saved billions of dollars in regulatory costs and slashed thousands of outmoded regulations. We are moving steadily toward a regulatory system that provides needed protections fairly, predictably, and at minimum cost.
I urge Congress to continue on this steady path and resist the simplistic solutions that have been proposed as alternatives. Proposals like legislative veto and increased judicial review will add another layer to the regulatory process, making it more cumbersome and inefficient. The right approach to reform is to improve the individual statutes, where they need change, and to ensure that the regulatory agencies implement those statutes sensibly.
PAPERWORK REDUCTION
The Federal Government imposes a huge paperwork burden on business, local government, and the private sector. Many of these forms are needed for vital government functions, but others are duplicative, overly complex or obsolete.
During my Administration we cut the paperwork burden by 15 percent, and we created procedures to continue this progress. The new Paperwork Reduction Act centralizes, in OMB, oversight of all agencies' information requirements and strengthens OMB's authority to eliminate needless forms. The "paperwork budget" process, which I established by executive order, applies the discipline of the budget process to the hours of reporting time imposed on the public, forcing agencies to scrutinize all their forms each year. With effective implementation, these steps should allow further, substantial paperwork cuts in the years ahead.
TIGHTENING STANDARDS FOR GOVERNMENTAL EFFICIENCY AND INTEGRITY
To develop a foundation to carry out energy policy, we consolidated scattered energy programs and launched the Synthetic Fuels Corporation; to give education the priority it deserves and at the same time reduce HHS to more manageable size, I gave education a seat at the Cabinet table, to create a stronger system for attacking waste and fraud, I reorganized audit and investigative functions by putting an Inspector General in major agencies. Since I took office, we have submitted 14 reorganization initiatives and had them all approved by Congress. We have saved hundreds of millions of dollars through the adoption of businesslike cash management principles and set strict standards for personal financial disclosure and conflict of interest avoidance by high Federal officials.
To streamline the structure of the government, we have secured approval of 14 reorganization initiatives, improving the efficiency of the most important sectors of the government, including energy, education, and civil rights enforcement. We have eliminated more than 300 advisory committees as well as other agencies, boards and commissions which were obsolete or ineffective. Independent Inspectors General have been appointed in major agencies to attack fraud and waste. More than a billion dollars of questionable transactions have been identified through their audit activities.
The adoption of business-like cash management and debt collection initiatives will save over $1 billion, by streamlining the processing of receipts, by controlling disbursements more carefully, and by reducing idle cash balances. Finally this Administration has set strict standards for personal financial disclosure and conflict of interest avoidance by high Federal officials, to elevate the level of public trust in the government.
V. PROTECTING BASIC RIGHTS AND LIBERTIES
I am extremely proud of the advances we have made in ensuring equality and protecting the basic freedoms of all Americans.
—The Equal Employment Opportunity Commission (EEOC) and the Office of Federal Contract Compliance (OFCCP) have been reorganized and strengthened and a permanent civil rights unit has been established in OMB.
—To avoid fragmented, inconsistent and duplicative enforcement of civil rights laws, three agencies have been given coordinative and standard-setting responsibilities in discrete areas: EEOC for all employment-related activities, HUD for all those relating to housing, and the Department of Justice for all other areas.
—With the enactment of the Right to Financial Privacy Act and a bill limiting police search of newsrooms, we have begun to establish a sound, comprehensive, privacy program.
Ratification of the Equal Rights Amendment must be aggressively pursued. Only one year remains in which to obtain ratification by three additional states.
The Congress must give early attention to a number of important bills which remain. These bills would:
—strengthen the laws against discrimination in housing. Until it is enacted, the 1968 Civil Rights Act's promise of equal access to housing will remain unfulfilled;
—establish a charter for the FBI and the intelligence agencies. The failure to define in law the duties and responsibilities of these agencies has made possible some of the abuses which have occurred in recent years;
—establish privacy safeguards for medical research, bank, insurance, and credit records; and provide special protection for election fund transfer systems.
EQUAL RIGHTS AMENDMENT
I remain committed as strongly as possible to the ratification of the Equal Rights Amendment.
As a result of our efforts in 1978, the Equal Rights Amendment's deadline for ratification was extended for three years. We have now one year and three States left. We cannot afford any delay in marshalling our resources and efforts to obtain the ratification of those three additional States.
Although the Congress has no official role in the ratification process at this point, you do have the ability to affect public opinion and the support of State Legislators for the Amendment. I urge Members from States which have not yet ratified the Equal Rights Amendment to use their influence to secure ratification. I will continue my own efforts to help ensure ratification of the Equal Rights Amendment.
MARTIN LUTHER KING, JR.
Dr. Martin Luther King, Jr. led this Nation's effort to provide all its citizens with civil rights and equal opportunities. His commitment to human rights, peace and non-violence stands as a monument to his humanity and courage. As one of our Nation's most outstanding leaders, it is appropriate that his birthday be commemorated as a national holiday. I hope the Congress will enact legislation this year that will achieve this goal.
FAIR HOUSING
The Fair Housing Act Amendments of 1980 passed the House of Representatives by an overwhelming bipartisan majority only to die in the Senate at the close of the 96th Congress. The leaders of both parties have pledged to make the enactment of fair housing legislation a top priority of the incoming Congress. The need is pressing and a strengthened federal enforcement effort must be the primary method of resolution.
CRIMINAL CODE
The Federal criminal laws are often archaic, frequently contradictory and imprecise, and clearly in need of revision and codification. The new Administration should continue the work which has been begun to develop a Federal criminal code which simplifies and clarifies our criminal laws, while maintaining our basic civil liberties and protections.
PRIVACY
As our public and private institutions collect more and more information and as communications and computer technologies advance, we must act to protect the personal privacy of our citizens.
In the past four years we acted on the report of the Privacy Commission and established a national privacy policy. We worked with Congress to pass legislation restricting wiretaps and law enforcement access to bank records and to reporters' files. We reduced the number of personal files held by the government and restricted the transfer of personal information among Federal agencies. We also worked with the Organization for Economic Cooperation and Development to establish international guidelines to protect the privacy of personal information that is transferred across borders.
VI. PROTECTING AND DEVELOPING OUR NATURAL RESOURCES
Two of our Nation's most precious natural resources are our environment and our vast agricultural capacity. From the beginning of my Administration, I have worked with the Congress to enhance and protect, as well as develop our natural resources. In the environmental areas, I have been especially concerned about the importance of balancing the need for resource development with preserving a clean environment, and have taken numerous actions to foster this goal. In the agricultural area, I have taken the steps needed to improve farm incomes and to increase our agricultural production to record levels. That progress must be continued in the 1980's.
ENVIRONMENT
Preserving the quality of our environment has been among the most important objectives of my Administration and of the Congress. As a result of these shared commitments and the dedicated efforts of many members of the Congress and my Administration, we have achieved several historic accomplishments.
PROTECTION OF ALASKA LANDS
Passage of the Alaska National Interest Lands Conservation Act was one of the most important conservation actions of this century. At stake was the fate of millions of acres of beautiful land, outstanding and unique wildlife populations, native cultures, and the opportunity to ensure that future generations of Americans would be able to enjoy the benefits of these nationally significant resources. As a result of the leadership, commitment, and persistence of my Administration and the Congressional leadership, the Alaska Lands Bill was signed into law last December.
The Act adds 97 million acres of new parks and refuges, more than doubling the size of our National Park and National Wildlife Refuge Systems. The bill triples the size of our national wilderness system, increasing its size by 56 million acres. And by adding 25 free-flowing river segments to the Wild and Scenic River System, the bill almost doubles the river mileage in that system. The Alaska Lands Act reaffirms our commitment to the environment and strikes a balance between protecting areas of great beauty and allowing development of Alaska's oil, gas, mineral, and timber resources.
PROTECTION OF NATURAL RESOURCES
In addition to the Alaska Lands Act, over the past four years we have been able to expand significantly the national wilderness and parks systems. In 1978, the Congress passed the historical Omnibus Parks Act, which made 12 additions to the National Park System. The Act also established the first two national trails since the National Trails System Act was passed in 1968. Then, in 1980, as a result of my 1979 Environmental Message, the Federal land management agencies have established almost 300 new National Recreational Trails. With the completion of the RARE II process, which eliminated the uncertainty surrounding the status of millions of acres of land, we called for over 15 million acres of new wilderness in the nation's National Forest, in 1980 the Congress established about 4.5 million acres of wilderness in the lower 48 states. In addition, the Administration recommended legislation to protect Lake Tahoe, and through an Executive Order has already established a mechanism to help ensure the Lake's protection. Finally, in 1980 the Administration established the Channel Islands Marine Sanctuary.
Administration actions over the past four years stressed the importance of providing Federal support only for water resource projects that are economically and environmentally sound. This policy should have a major and lasting influence on the federal government's role in water resource development and management. The Administration's actions to recommend to the Congress only economically and environmentally sound water resource projects for funding resulted not only in our opposing uneconomic projects but also, in 1979, in the first Administration proposal of new project starts in 4 years.
One of the most significant water policy actions of the past four years was the Administration's June 6, 1978 Water Policy Reform Message to the Congress. This Message established a new national water resources policy with the following objectives:
—to give priority emphasis to water conservation;
—to consider environmental requirements and values more fully and along with economic factors in the planning and management of water projects and programs;
—to enhance cooperation between state and federal agencies in water resources planning and management.
In addition, the Executive Office of the President established 11 policy decision criteria to evaluate the proposed federal water projects, the Water Resources Council developed and adopted a new set of Principles and Standards for water projects which is binding on all federal construction agencies, and improved regulations were developed to implement the National Historic Preservation Act and the Fish and Wildlife Coordination Act. As a result, water resource projects must be determined to be economically sound before the Administration will recommend authorization or appropriation. Over the years ahead, this policy will help to reduce wasteful federal spending by targeting federal funds to the highest priority water resource projects.
In the pursuit of this policy, however, we cannot lose projects. In the part that sound water resource projects play in providing irrigation, power, and flood control. We must also recognize the special needs of particular regions of the country in evaluating the need for additional projects.
ADDRESSING GLOBAL RESOURCE AND ENVIRONMENTAL PROBLEMS
The Global 2000 Report to the President, prepared in response to my 1977 Environment Message, is the first of its kind. Never before has our government, or any government, taken such a comprehensive, long-range look at the interrelated global issues of resources, population, and environment.
The Report's conclusions are important. They point to a rapid increase in population and human needs through the year 2000 while at the same time a decline in the earth's capacity to meet those needs, unless nations of the world act decisively to alter current trends.
The United States has contributed actively to a series of U.N. conferences on the environment, population, and resources, and is preparing for the 1981 Conference on New and Renewable Sources of Energy. Following my 1977 Environmental Message, the Administration development assistance programs have added emphasis to natural resource management and environmental protection. My 1979 Environmental Message called attention to the alarming loss of world forests, particularly in the tropics. An interagency task force on tropical forests has developed a U.S. government program to encourage conservation and wise management of tropical forests. The Administration is encouraging action by other nations and world organizations to the same purpose. The United States is a world leader in wildlife conservation and the assessment of environmental effects of government actions. The January 5, 1979, Executive Order directing U.S. government agencies to consider the effects of their major actions abroad, is another example of this leadership.
COMMITMENT TO CONTROL OF POLLUTION AND HAZARDOUS CHEMICALS
Over the past four years, there has been steady progress towards cleaner air and water, sustained by the commitment of Congress and the Administration to these important national objectives. In addition, the Administration has developed several new pollution compliance approaches such as alternative and innovative waste water treatment projects, the "bubble" concept, the "offset" policy, and permit consolidation, all of which are designed to reduce regulatory burdens on the private sector.
One of the most pressing problems to come to light in the past four years has been improper hazardous waste disposal. The Administration has moved on three fronts. First, we proposed the Oil Hazardous Substances and Hazardous Waste Response, Liability and Compensation Act (the Superfund bill) to provide comprehensive authority and $1.6 billion in funds to clean up abandoned hazardous waste disposal sites. In November 1980 the Congress passed a Superfund bill which I signed into law.
Second, the administration established a hazardous waste enforcement strike force to ensure that when available, responsible parties are required to clean up sites posing dangers to public health and to the environment. To date, 50 lawsuits have been brought by the strike force.
Third, regulations implementing subtitle C of the Resource Conservation and Recovery Act were issued. The regulations establish comprehensive controls for hazardous waste and, together with vigorous enforcement, will help to ensure that Love Canal will not be repeated.
THE FUTURE
For the future, we cannot, and we must not, forget that we are charged with the stewardship of an irreplaceable environment and natural heritage. Our children, and our children's children, are dependent upon our maintaining our commitment to preserving and enhancing the quality of our environment. It is my hope that when our descendants look back on the 1980's they will be able to affirm:
—that we kept our commitment to the restoration of environmental quality;
—that we protected the public health from the continuing dangers of toxic chemicals, from pollution, from hazardous and radioactive waste, and that we made our communities safer, healthier and better places to live;
—that we preserved America's wilderness areas and particularly its last great frontier, Alaska, for the benefit of all Americans in perpetuity;
—that we put this nation on a path to a sustainable energy future, one based increasingly on renewable resources and on energy conservation;
—that we moved to protect America's countryside and coastland from mismanagement and irresponsibility;
—that we redirected the management of the nation's water resources toward water conservation, sound development and environmental protection;
—that we faced squarely such worldwide problems as the destruction of forests, acid rain, carbon dioxide build-up and nuclear proliferation; and
—that we protected the habitat and the existence of our own species on this earth.
AGRICULTURE THE FARM ECONOMY
The farm economy is sound and its future is bright. Agriculture remains a major bulwark of the nation's economy and an even more important factor in the world food system. The demand for America's agricultural abundance, here and abroad, continues to grow. In the near-term, the strength of this demand is expected to press hard against supplies, resulting in continued price strength.
The health and vitality of current-day agriculture represents a significant departure from the situation that existed when I came to office four years ago. In January 1977, the farm economy was in serious trouble. Farm prices and farm income were falling rapidly. Grain prices were at their lowest levels in years and steadily falling. Livestock producers, in their fourth straight year of record losses, were liquidating breeding herds at an unparalleled rate. Dairy farmers were losing money on every hundredweight of milk they produced. Sugar prices were in a nosedive.
Through a combination of improvements in old, established programs and the adoption of new approaches where innovation and change were needed, my Administration turned this situation around. Commodity prices have steadily risen. Farm income turned upward. U.S. farm exports set new records each year, increasing over 80 percent for the four year period. Livestock producers began rebuilding their herds. Dairy farmers began to earn a profit again.
RECENT POLICY INITIATIVES
Several major agricultural policy initiatives have been undertaken over the past year. Some are the culmination of policy proposals made earlier in this Administration; others are measures taken to help farmers offset the impact of rapid inflation in production costs. In combination, they represent a significant strengthening of our nation's food and agricultural policy. These initiatives include:
FOOD SECURITY RESERVE
The Congress authorized formation of a 4 million ton food grain reserve for use in international food assistance. This reserve makes it possible for the United States to stand behind its food aid commitment to food deficit nations, even during periods of short supplies and high prices. This corrects a serious fault in our past food assistance policy.
COMPREHENSIVE CROP INSURANCE
The Congress also authorized a significant new crop insurance program during 1980. This measure provides farmers with an important new program tool for sharing the economic risks that are inherent to agriculture. When fully operational, it will replace a hodgepodge of disaster programs that suffered from numerous shortcomings.
SPECIAL LOAN RATES
Another legislative measure passed late in the 2nd session of the 96th Congress authorizes the Secretary of Agriculture to provide higher loan rates to farmers who enter their grain in the farmer-owned grain reserve. This additional incentive to participate will further strengthen the reserve.
INCREASED LOAN PRICES
In July 1980, I administratively raised loan prices for wheat, feedgrains, and soybeans to help offset the effects of a serious cost-price squeeze. At the same time, the release and call prices for the grain reserve were adjusted upward.
HIGHER TARGET PRICES
The Agricultural Adjustment Act of 1980 raised the target prices for 1980-crop wheat and feed grain crops. This change corrected for shortcomings in the adjustment formula contained in the Food and Agriculture Act of 1977.
FUTURE AGENDA
The food and agricultural policies adopted by this Administration over the past four years, including those described above, will provide a firm foundation for future governmental actions in this field. Expiration of the Food and Agriculture Act of 1977 later this year will require early attention by the Congress. With relatively minor changes, most of the authorities contained in the 1977 Act should be extended in their present form. The farmer-owned grain reserve has proven to be a particularly effective means of stabilizing grain markets and should be preserved in essentially its present form.
Beyond this, it will be important for the Congress to keep a close eye on price-cost developments in the farm sector. As noted above, some of the actions I took last year were for the purpose of providing relief from the cost-price squeeze facing farmers. Should these pressures continue, further actions might be required.
My Administration has devoted particular attention to the issues of world hunger, agricultural land use, and the future structure of American agriculture. I encourage the Congress and the next Administration to review the results of these landmark enquiries and, where deemed appropriate, to act on their recommendations.
Following a careful review of the situation, I recently extended the suspension of grain sales to the Soviet Union. I am satisfied that this action has served its purpose effectively and fairly. However, as long as this suspension must remain in effect, it will be important for the next Administration and the Congress to take whatever actions are necessary to ensure that the burden does not fall unfairly on our Nation's farmers. This has been a key feature of my Administration's policy, and it should be maintained.
VII. FOREIGN POLICY
From the time I assumed office four years ago this month, I have stressed the need for this country to assert a leading role in a world undergoing the most extensive and intensive change in human history.
My policies have been directed in particular at three areas of change:
—the steady growth and increased projection abroad of Soviet military power, power that has grown faster than our own over the past two decades.
—the overwhelming dependence of Western nations, which now increasingly includes the United States, on vital oil supplies from the Middle East.
—the pressures of change in many nations of the developing world, in Iran and uncertainty about the future stability of many developing countries.
As a result of those fundamental facts, we face some of the most serious challenges in the history of this nation. The Soviet invasion of Afghanistan is a threat to global peace, to East-West relations, and to regional stable flow of oil. As the unprecedented relations, an and overwhelming vote in the General Assembly demonstrated, countries across the world, and particularly the nonaligned, regard the Soviet invasion as a threat to their independence and security. Turmoil within the region adjacent to the Persian Gulf poses risks for the security and prosperity of every oil importing nation and thus for the entire global economy. The continuing holding of American hostages in Iran is both an affront to civilized people everywhere, and a serious impediment to meeting the self-evident threat to widely-shared common interests, including those of Iran.
But as we focus our most urgent efforts on pressing problems, we will continue to pursue the benefits that only change can bring. For it always has been the essence of America that we want to move on, we understand that prosperity, progress and most of all peace cannot be had by standing still. A world of nations striving to preserve their independence, and of peoples aspiring for economic development and political freedom, is not a world hostile to the ideals and interests of the United States. We face powerful adversaries, but we have strong friends and dependable allies. We have common interests with the vast majority of the world's nations and peoples.
There have been encouraging developments in recent years, as well as matters requiring continued vigilance and concern:
—Our alliances with the world's most advanced and democratic states from Western Europe through Japan are stronger than ever.
—We have helped to bring about a dramatic improvement in relations between Egypt and Israel and an historic step towards a comprehensive Arab-Israeli settlement.
—Our relations with China are growing closer, providing a major new dimension in our policy in Asia and the world.
—Across southern Africa from Rhodesia to Namibia we are helping with the peaceful transition to majority rule in a context of respect for minority as well as majority rights.
—We have worked domestically and with our allies to respond to an uncertain energy situation by conservation and diversification of energy supplies based on internationally agreed targets.
—We have unambiguously demonstrated our commitment to defend Western interests in Southwest Asia, and we have significantly increased our ability to do so.
No prior document in this Era
No next document in this Era