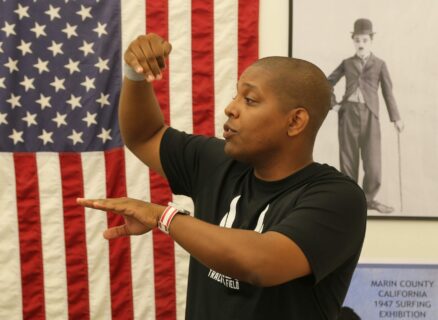 For Constitution Day: Teaching the Blessings of Liberty
We rely on teachers of American history, government and civics to do the most critical work in America: helping the next generation understand their rights and responsibilities as self-governing citizens. For Constitution Day, we feature a teacher,
Malik Ali
, who helps students see our founding document "as the groundwork for a resilient political culture that has withstood some profound stress tests." Before studying the events of our history, Ali's students closely read the Constitution's Preamble. They discuss in detail the six purposes outlined in the Preamble's single sentence, pausing on the last: to "secure the Blessings of Liberty to ourselves and our Posterity." This theme will carry throughout the course that follows.
---
Teaching the Blessings of Liberty
Malik Ali won a Chairman's Award in December 2017 for his outstanding performance on the final exam in Ashland University's Master of American History and Government (MAHG) program. Ali's command of his subject is matched by his effectiveness in teaching it. He has taught for twelve years at The Branson School, a highly respected private high school in Marin County, California. "Malik is a truly gifted teacher of history," says Head of School Christina Mazzola. "He challenges our students to think deeply and examine issues from many diverse angles. He urges them out of their comfort zones with his unique style of engaging them with stories, rather than dates and facts."
Yet teaching history was not Ali's first career goal.
A Love of Autobiography Leads to History
Ali majored in English at Morehouse College in Atlanta, where he nourished an interest in the great American autobiographies. At Branson, he first taught English, and saw students grow especially engaged as they read excerpts of such works as Benjamin Franklin's Autobiography and Harriet Jacobs' Incidents in the Life of a Slave Girl. Other writings by real persons of the past—such as Abraham Lincoln's sober reflection on the meaning of the Civil War in his Second Inaugural Address, and the Letter from Birmingham Jail that Martin Luther King addressed to local pastors critical of his civil rights activism—captured their imaginations. When Branson's academic dean asked Ali to teach American history while furthering his education in the subject, the move made sense.
Read more of Ali's story.