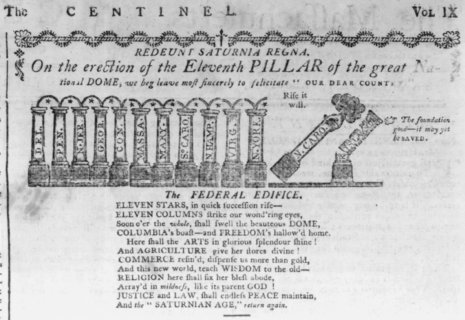 12/12/1787 and Ratification
On this day in 1787, Pennsylvania became the second state to ratify the Constitution, by a vote of 46 to 23. Pennsylvania was the first large state to ratify, as well as the first state to endure a serious Anti-Federalist challenge to ratification.
If you didn't already know, Professor Gordon Lloyd of Pepperdine University has created a website in collaboration with the Ashbrook Center for Public Affairs at Ashland University on the Ratification of the Constitution. Professor Lloyd organizes the content on the Ratification in various ways on the website. One lesson plan has been created to align with the content of the "in doors" conversations of ratification. There are four main component parts to the "in doors" coverage on the website. 1) A Commentary that breaks down the "in house" ratification into The Six Stages of the Ratification of the Constitution. 2) Elliot's Debates is the major source for learning what took place at the various state ratifying conventions. 3) We have provided a day-by-day summary of each of the three ratifying conventions Massachusetts, Virginia, and New York. This summary highlights the particular clauses of the Constitution that were under consideration on that day along with a synopsis of the main points that were made by the delegates. Each of the three Day-by-Day Summaries is preceded by a brief overview of the entire ratifying convention. 4) A set of individual Maps along with a comprehensive map that shows the location of Federalist and Antifederalist strength throughout the thirteen states.
The full lesson can be found here.