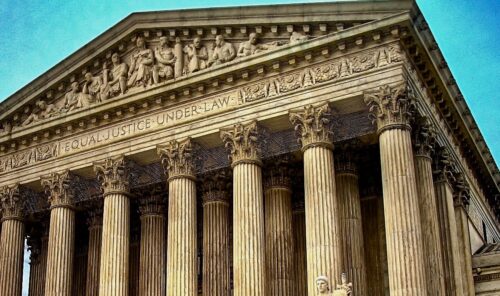 As the SCOTUS Term Begins: Teaching What Free Speech Means
The first Monday in October traditionally opens the Supreme Court's yearly term. To mark this first week of oral arguments at the court, we feature today a story about two teachers who spent a week thinking about—­and simulating—a hypothetical First Amendment case.
Their experience in a summer residence course in the Master of Arts in American History and Government caused them to reflect not only on free speech in our democracy but also on how to manage classroom discussions of challenging subjects. Exercising our right to free speech, Americans daily subject our democracy to critical stress tests. To manage these, we need not only the wisdom of our high court; we need education in respectful speaking and listening. There is no better place to practice these skills than in the social studies classroom.
---
Two teachers of American government in Texas, Candee Collins (a dual credit instructor for Kilgore College at Pine Tree High School in Longview) and Kimberly Grosenbacher (who teaches at Samuel V. Champion High School in Boerne), spent a week in the summer of 2018 grappling with the current understanding of the free speech provisions of the First Amendment.
They had already studied the history of Supreme Court jurisprudence in past coursework for the Master of Arts in American History and Government (MAHG). Yet the summer residence course on "Free Speech in War, Hate, and On Campus" taught by Professor Joseph Fornieri (Rochester Institute of Technology) would zero in on a troubling issue their students might encounter when they left for college.
Fornieri noted that recent news stories showing university students loudly heckling both tenured professors and visiting speakers suggest a rising disregard for free speech protections. He cited a Brookings Institute survey suggesting the cause is students' ignorance. It found a majority of undergraduates do not know that speech they deem offensive is constitutionally protected.
Read more of the story.