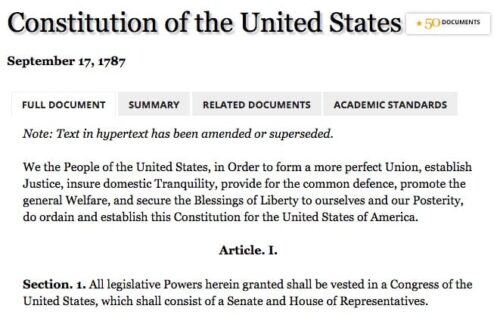 Constitution Day is Thursday, September 17th! 
Are you ready with lessons and resources that will help your students learn about this document and its history, meaning, and importance?
TeachingAmericanHistory.org has a diverse selection of documents, lessons, and other resources that will help you help your students. To kick of Constitution Month, we're starting with the most obvious: the Constitution itself.
We will be posting resources daily, Monday through Friday, on our Facebook page – TeachingAmericanHistory.org. Join the Constitution Month conversation with your fellow teachers by following our Facebook page.
You'll notice at that link a few interesting things. First, there is the document itself. Along with it is a short summary that establishes the historical context and meaning of the document. There are also some guiding questions for the document. Next the Summary tab is one that provides a scholar-curated list of related documents. Finally, the Academic Standards tab enables you to search for state academic content standards for Social Studies and the Common Core ELA standards for History and Social Studies, by grade level.
To accompany the document itself and those documents related to it, take a look at our new lesson plan archive, on Share My Lesson, a project of the American Federation of Teachers.
In our next Constitution Month email we'll highlight some multimedia resources that you and your students can use to learn about the Convention of 1787.