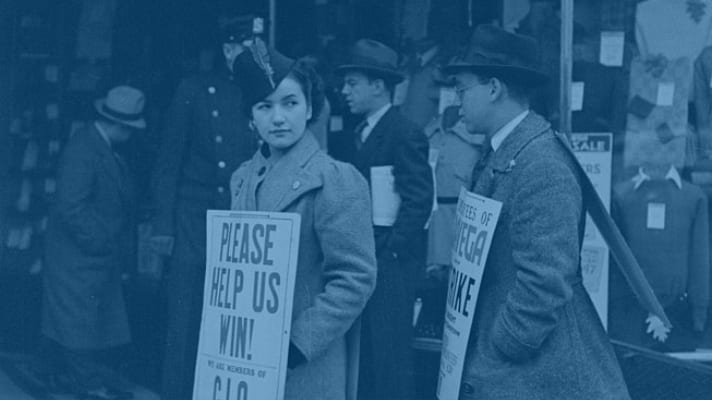 Documenting Labor in American History
This weekend, Americans will enjoy an extra day off as the nation observes Labor Day. Now a national holiday, the observance of a day in honor of the contributions of American workers began at the local level in the late nineteenth century. Yet discussions of the importance of hard work and the value of working people in society have been part of America's story from the very beginning, as we think you'll see in the documents below:
Labor in Early America
William Bradford, Of Property, 1623  – describes the shift from communal to private property in Plymouth.
Robert Keayne, Apologia, August 1, 1653 – Keayne's posthumous defense against usury charges.
Richard Frethorne to His Parents, March 20 and April 2–3, 1623 – first hand account of the life of an indentured servant in early Viginia.
George Alsop, The Necessariness of Servitude Proved, 1666 – explains why servants are needed in the new world colonies.
Labor During the Antebellum Period
Orestes Bronson, The Laboring Classes, 1840 – describes the working conditions of factory laborers as "wages slavery"
Massachusetts Lawmakers Investigate Working Conditions, 1845 – official government report on the safety and working conditions in the textile mills.
William West, "Wages Slavery and Chattel Slavery," April 2 and 23, 1847 – compares the evils of factory work to those of chattel slavery.
Labor During the Era of Industrialization and Urbanization
United States Strike Commission, Report on the Chicago Strike, June-July 1894, December 10, 1894 – describes the causes and effects of the Pullman strike.
Associate Justice David Brewer, In re Debs, May 7, 1895 – judgement against Eugene Debs, trade unionist and labor organizer.
Eugene V. Debs, "Liberty: Speech at Battery D, Chicago," On Release from Woodstock Jail, November 22, 1895 – situates the labor movement in the larger American tradition of liberty.
Labor During the New Deal
Mauritz A. Hallgreen, "The Right to Strike" – describes the increase in labor strikes under the New Deal as a tactic used by unions to gain recognition.
Franklin D. Roosevelt, "The Forgotten Man," April 7, 1932 – describes the citizen in economic terms as a subject for governmental protection and concern.
Senator Huey P. Long (D-LA), Statement on the Share Our Wealth Society, May 23, 1935 – provides a vision of a more egalitarian economic system for America
Labor at the end of the 20th Century
Address to the Nation on the Economy, President Ronald Reagan, February 5, 1981 – focuses on the larger economic context of labor problems and the government's role (or lack thereof) in their possible solutions.
The President's Address to a Joint Session of Congress, President Bill Clinton, February 17, 1993 – outlines a policy of governmental "investment" in America's economic health and future.