Dropping the Atomic Bombs: A Great Debate of History
Twenty-five teachers from across the Phoenix area joined Dr. David Hadley of Ashland University on 30 January to discuss the development of, decision to use, and the immediate results of the Atomic Bombs used on Japan during World War 2.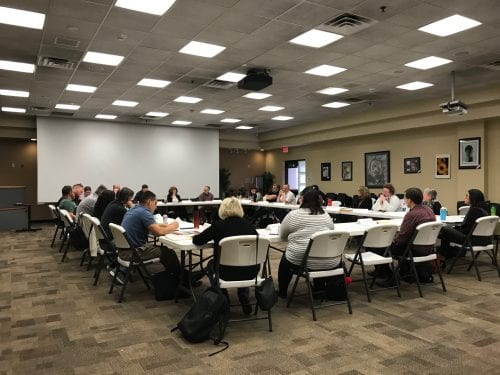 The development of the bomb was the result of the top-secret Manhattan Project. The majority of Americans had no opportunity to even consider the technological, political, or moral implications of nuclear technology weapon until they learned about the American attack on Hiroshima, Japan on 6 August 1945 in which 80,000 people were killed instantly from a White House press release. Three days later, the United States dropped a second atomic bomb on the city of Nagasaki, killing 35,000 people.  Japan surrendered on August 14, 1945, but the long-term implications of the decision to use atomic weapons would be the source of public discussion for decades to come.
Thanks to Phoenix Union High School District for our five-year partnership, enabling hundreds of teachers to attend TAH programs like this in the Phoenix area.
Download the reader here; look at our World War II Core Documents Collection; and see what other programs TAH has planned for Arizona over the next few months.