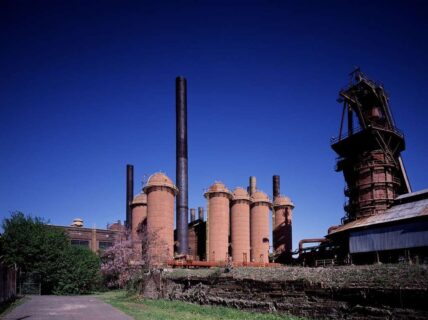 In-Person Professional Development Opportunities
TeachingAmericanHistory.org is happy to get back out on the road and bring our unique One Day Seminars to historical sites!
At Teaching American History we believe the best way to understand history is through the words of those who lived it and we do that through conversation at the big square table. Our professional development seminars are not meant to be passive lectures, they are interactive discussions between teachers and scholar using historical documents. Every registrant will receive a set of primary source readings approximately two weeks before the seminar so they may pre-read and prepare their thoughts and questions. Lunch is provided as well.
Join us at the table for some collegiality and fellowship with like-minded history nerds. We look forward to seeing you again.
Professional Development Opportunities in ALABAMA: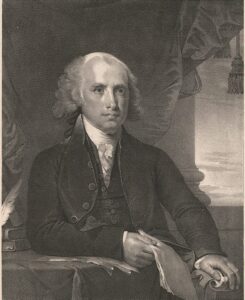 Join us in Birmingham for a seminar on Feb. 26th entitled "Captains of Industry or Robber Barons?" with Dr. Will Atto. Revisit the Gilded Age, or Age of Enterprise as some call it, and read deeply about the ideas, actions, and legacies of the leading political and industrial figures of the times, exploring the question of whether these people are properly portrayed as either 'Robber Barons' or 'Captains of Industry'. Register Here.
Join us on March 5th for a discussion on "Mr. Madison's War – 1812" with Dr. Dennis Boman. The War of 1812 represented the first instance that the young republic declared war on another nation. This seminar will explore the causes and events that led to the war, President James Madison's policies and the aftermath of this Second American Revolution. Register Here.
Professional Development Opportunities in MICHIGAN: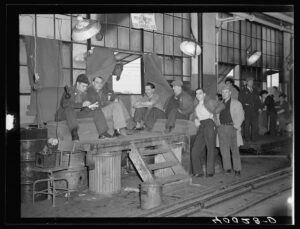 On April 30th we will be in Ypsilanti for a seminar entitled "Labor Leaders and Reformers in American History" led by Dr. Eric Pullen. In the nineteenth and twentieth centuries organized labor formed one of the most significant movements for change in the United States. This seminar will explore the leaders and reformers of the movement and consider their lasting impact. Register Here.
We will be in Chelsea on May 21st to explore "World War II on the Home Front" with Dr. David Krugler. The Japanese attack on Pearl Harbor, December 7th, 1941, thrust the United States into World War II. Soldiers were quickly trained and mobilized; factories were repurposed to manufacture war material; and women worked the assembly lines, transforming the social and economic fabric of the nation. This seminar will explore how World War II affected America on the home front. Register Here.
Professional Development Opportunities in IOWA
In partnership with the Iowa Council for the Social Studies we are holding three great seminars at the Iowa Gold Star Military Museum (located just outside of Des Moines). All three seminars are focused on the Cold War era.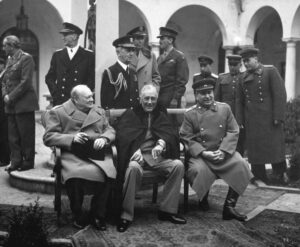 Origins of the Cold War
Join us March 26th for "Origins of the Cold War" led by Dr. David Hadley. How did the alliances of World War II break down so quickly after 1945? How close were these alliances in the first place? What differences existed between the United States and the Soviet Union that acted as wedges between these two states and their respective allies? This seminar focuses on the ideas, events, and people – as expressed in key documents – of the years immediately after the end of World War II as well as how the Cold War began. Register Here.
Cold War on the Home Front 1945-1954
Dr. David Krugler will chair discussion of the topic "Cold War on the Home Front 1945-1954" on April 23rd. The rise of tension between the United States and the Soviet Union is a story that has often been told. How did these developments abroad affect life in the United States? This seminar will focus on postwar anticommunism, culminating in the McCarthy era, but will also focus on changes in home and family life, as well as popular culture in the postwar period. Register Here.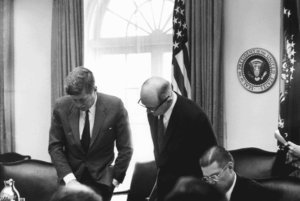 The Cuban Missile Crisis
Dr. John Moser will wrap up this series with a conversation on "The Cuban Missile Crisis" on May 21st. The 1962 Cuban Missile Crisis brought the world to the brink of nuclear war. Not surprisingly, it is one of the most studied and well-documented events in modern U.S. history. In this seminar, we will use a selection of primary sources related to the crisis to address key questions and to examine the decisions and actions of U.S., Soviet, and Cuban officials. Why did the Soviet Union place nuclear missiles in Cuba? How did the U.S. respond? What options did President Kennedy and his advisers (known as the ExComm) have to force the removal of the missiles? How was the crisis ended? How might it have ended? We will also learn how records related to the crisis became available after 1962, especially following the end of the Cold War. Register Here.
Professional Development Opportunities in NEW YORK
The historic Frauncis Tavern Museum, where General Washington bid farewell to his officers in 1783, is a fitting venue where Dr. Stephen Knott will lead the conversation on "Washington and Hamilton: the Alliance that Forged a Nation" on April 30th. This seminar will examine the extraordinary partnership between George Washington and Alexander Hamilton. This unusual alliance between a wealthy Virginia planter and a brash immigrant from the Caribbean helped to win the Revolutionary War and establish a "new order for the ages." Indeed, no other founding collaboration was as important to achieving victory and nationhood as Washington and Hamilton's. Register Here.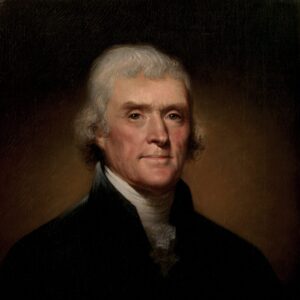 On May 14th Dr. Rob McDonald will host us at the West Point Military Academy for a seminar on "Thomas Jefferson: Revered and Reviled". Thomas Jefferson served as a lightning rod for controversy. While his supporters organized festivals in his honor, marched in parades and praised him in songs, Federalists portrayed him as a dilettante and demagogue, double-faced and dangerously radical. This seminar investigates the factors that made Jefferson such a divisive figure. How did his own actions combine with events beyond his control to shape the development of his two-sided image?
IMPORTANT INFORMATION ABOUT THIS SEMINAR: This is a federal military installation and you will be required to provide information from your state issued ID two weeks before the seminar that will be given to West Point for their security vetting process. Masks will be required to enter. Register Here.
---