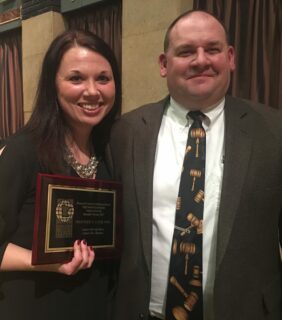 Minnesota Teacher of the Year Constantly Builds Her Content Knowledge
In March, the Minnesota Council of Social Studies named Heather Loeschke 2017 Teacher of the Year. Loeschke, a 2014 graduate of the Master of Arts in American History and Government (MAHG) program at Ashland University, has taught for 21 years—since 2001 at Cannon Falls Junior/Senior High School, a rural school 35 miles south of the Twin Cities. For many years a government teacher, she now also covers Advanced Placement US history. We asked her how TAH programs supported her development as a teacher.
What is your philosophy of education?
 I believe education is like life—one never fully achieves knowledge, or finishes learning. Teachers get kids when their knowledge glass is fairly empty, so we provide them with information; but we must also provide them tools to become lifelong learners.
 Why did you enroll in the MAHG program?
 I was a history major in college. Then for many years I taught civics, developing a profound love of that subject—but I felt I needed more content knowledge, especially in history. I would be picking up the APUSH course at my high school when a colleague retired. You can't fool a kid. If you don't know the content, they know that you don't know it, and you lose their attention and focus. Pedagogy is important, but that's mostly smoke, bells and whistles.
When I was awarded the James Madison Fellowship that would fund my second MA (my first was in education), I called the University of Minnesota and universities in Wisconsin, the Dakotas and Iowa. I found that I could get an MA in history, but in political science, departments offered only PhD programs.
I had been part of a 2006 Teaching American History program, the Presidential Academy, where I met professors who teach in MAHG today. So I knew that MAHG was a serious program. It also fit my schedule and covered the content I needed: both history and government.
How did the MAHG program support your goals as an educator?
The MAHG experience is invaluable. Every single class I took in the program has benefitted me in some way. The course offerings allowed me to choose classes that would make me a stronger teacher in the areas I teach. I use documents we used in MAHG in APUSH, in government classes, and to help kids prepare for the We the People competition. I've even had friends I've met through MAHG get online and talk through speakerphone to my kids about different subjects.
People ask me, is MAHG a degree in history or a degree in government? I say, it's a degree in both, but it's all infused with Constitutional studies. It's a nice blend.
This spring at our state social studies council meeting, recipients of teacher awards were asked to sit on a panel. We spoke to a standing-room only crowd about our philosophies as educators and about teaching approaches that we've found effective. Then we took questions. Teachers asked us, "What practices make you an excellent teacher?" All the other awardees talked about their lesson plans. I said that I'd earned two Masters and whenever possible attended seminars and conferences. I've visited historic places, met several Supreme Court justices, visited the White House, talked with Senators and been on the House floor, been in the Pentagon—really interesting places most people never get to visit. Going to conferences, I've met some extraordinary people.  I told teachers, "Sign up for a Teaching American History weekend seminar. You'll read and discuss primary documents with extraordinary professors. You'll network with other great teachers and see historic places. It will have a profound impact on your teaching."
Do you need to know American history in order to understand US government?
Yes—and the reverse is also true. In order for our history to make sense, you have to understand our government. A teacher told me, "When I get kids in AP US Government, they have never in their entire lives taken a government class." In her district, those who don't take the AP option leave high school without any civics instruction. I asked, "How does your school district justify that?" She said, "They feel they get enough government content in their history classes." Well, perhaps—if the teacher is well versed in both. We do kids a disservice if we don't require government. Many problems in politics today arise because voters have never read the Constitution and never taken a look at American history.  Citizens argue the Electoral College should be abolished, not knowing why the Founders created it; or they don't see that our system of checks and balances is being eroded, as Congress fails to use its Constitutional powers to keep the executive branch in check.
What did you find most challenging in the MAHG program?
We not only had to read documents carefully; we also wrote careful analyses of them. I became a much better writer and a much better reader by going through the MAHG program.
Shortly after I began the MAHG program, they offered the final comprehensive exam as an alternative to a thesis or capstone. I thought, "There's no way I'm doing that! How can I retain all the information implied in the word 'comprehensive'"? Yet when it came down to it, I realized the exam would allow me to develop my ideas in smaller chunks, even though I would do as much writing for the exam as I would for a thesis. Also, opting for the exam meant that I would take three more classes. When I say that, people look incredulous. I explain, "I got to go back to campus, be immersed in that world, be with professors I enjoy and friends I love being with."
How did writing for the MAHG degree benefit your teaching?
When I took over the APUSH course, it was being dramatically overhauled by the College Board to incorporate a lot more writing. My MAHG experience helped me teach the LEQ (long essay questions) as well as DBQs (document-based questions). Everything that we wrote for MAHG was a document-based question: our essays reflected on the readings we'd been discussing all week.
In order to become a good writer, you really have to practice. You also have to read lots of good writing—and all the documents we read are well written.
What is the most important thing your students need to learn in order to become participating citizens in our democratic republic?
They need to learn how government works and how it affects them. I tell students, "Government will affect your life whether you learn about it or not. But whether it is a positive or negative impact is entirely up to you. If you don't know the right questions or whom to ask, the wheels of government will roll right over you." In class, I refer to the words of statesmen I read in the MAHG program. I quote Madison, who said in Federalist 51 that the Constitutional provisions for checks and balances can only go so far; ultimately, "Our dependence is upon the people." Citizens must thoughtfully exercise their right to vote.