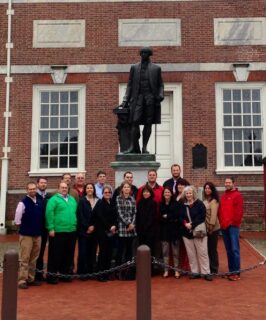 Our Philadelphia Colloquium
Last weekend, the Ashbrook Center hosted a group of U.S. History and Government teachers in Philadelphia for a colloquium on the theme, "Liberty and the Constitution: The Pennsylvania Ratifying Convention".
In the city where the Constitution was debated and drafted, and where Pennsylvanians examined the document before ratification, our group of teachers explored the critical issues raised by both supporters and opponents of ratification. Participants noted George Mason's fear that the Constitution would ultimately "produce a monarchy or a corrupt oppressive aristocracy," and Brutus' concern that "History furnishes no example of a free republic, any thing like the extent of the United States."
In exploring the defense of the Constitution offered in the Federalist essays, participants noted that Federalists listed as strengths certain features of the Constitution that Anti-Federalists saw as weaknesses. We paid special attention to Madison's Federalist 10, in which he criticized the Anti-Federalist vision of small republics where people share what Brutus called the same "manners, sentiments, and interests." Madison argued it was impossible to give "every citizen the same opinions, the same passions, and the same interests" without robbing them of their liberty. But where there is liberty, Madison noted, there is disagreement; and where there is disagreement, there can be faction. Madison observed, "The latent causes of faction are thus sown in the nature of man" – Americans, too, are in danger of falling to the same divisions that had undermined every previous experiment in self-government. Madison's response to this sobering recognition was to propose something new – an extended, representative, federal republic.
In addition to our discussion, participants had the opportunity to visit what is now known as "Independence Hall," but what was then known as the Pennsylvania State House. It was in this building where, in the summer of 1787, Washington, Madison, Franklin, Hamilton, and others gathered to frame the most frequently emulated form of government in the history of mankind.