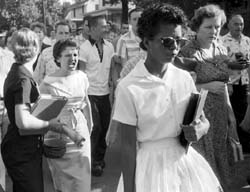 September 4, 1957: Little Rock Central High School
On this day in 1957, Arkansas Governor Orval Faubus, in defiance of a federal court decision ordering compliance with the 1954 Brown v. Board of Education ruling, called out the Arkansas National Guard to obstruct the integration of Little Rock Central High School.  The incident marks the first major test of the decision as well as the Eisenhower administration's will to enforce the order.
The United States National Park Service's We Shall Overcome: Historic Places of the Civil Rights Movement website chronicles Little Rock Central as well as dozens of other civil rights-related historic sites listed on the National Register of Historic Places.