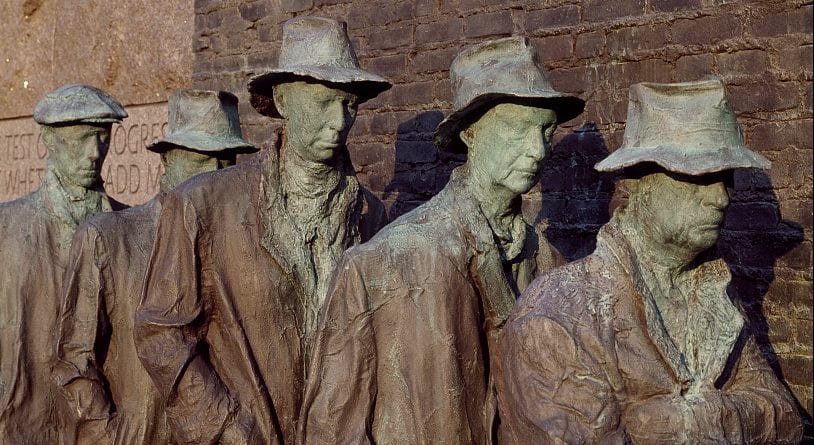 U.S. History Lesson Plans on the Great Depression and the New Deal
The Great Depression and the New Deal impacted a generation and forever changed the role of federal government in people's lives to this day. For today's high school students, the time may conjure up black-and-white images of people standing in soup lines or traversing the Dust Bowl. Iconic pictures and texts such as Grapes of Wrath have certainly helped people remember one of our nation's most challenging times. But how did the government, including Presidents Hoover and Roosevelt, respond with specific policies and institutions that continue to shape the United States?
Core Documents Collection
The collection of documents on the Great Depression and the New Deal makes clear the reasons why and the degree to which Franklin Roosevelt intended the New Deal to be a re-founding of the American republic after Hoover's struggle to pull the country out of financial despair. The collection presents the arguments of those who opposed the New Deal — Democrats as well as Republicans — and those who thought it did not go far enough. Taken together, these documents bring immediacy to this consequential period of American history, shedding light on the origins of Social Security, minimum wage, and other institutions that have become a part of the fabric of our daily lives.
The Great Depression and the New Deal Core American Document volume contains the following:
Key documents on the period, from Hoover's speeches to Roosevelt's fireside chats, to dozens of other statements and letters, selected by an expert and reviewed by an editorial board

An introduction highlighting key documents and themes

A thematic table of contents, showing the connections between various documents

Study questions for each document, as well as questions that refer to other documents in the collection

Notes on each document to identify people, events, movements, or ideas to improve understanding of the document's historical context
You can use some or all of the core documents, tailoring them to your curriculum, schedule, and students' needs. When you plan a lesson around Core Documents rather than a textbook, you will start to see your students making connections that bring the Great Depression and New Deal to life. Studied in conjunction with the Great Recession of 2008, these documents will also help your students understand patterns and themes that cross the eras.
Accessing the Great Depression and the New Deal Core Documents is easy. Just click on the link below and find everything you need to bring this era into your classroom today!  
Access the Core Documents: The Great Depression and the New Deal