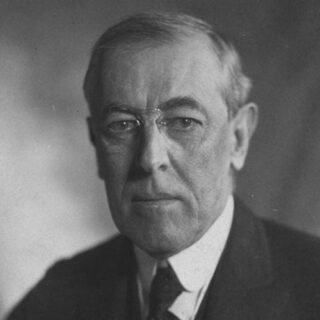 Woodrow Wilson's Fourteen Points
President Woodrow Wilson had asked Congress to declare war against imperial Germany in April of 1917,  after German submarines began attacking merchant ships supplying the Allies. Congress complied, and by January of 1918 the defeat of Germany appeared imminent. On January 8 he spoke to Congress again about the War, outlining peace terms that, he argued, would prevent future wars of aggression. Articulating  "fourteen points" necessary to secure a just and lasting peace, Wilson claimed a role for enlightened American leadership of world affairs. In Wilson's idealistic vision, "the day of conquest and aggrandizement is gone by; so is also the day of secret covenants entered into in the interest of particular governments and likely at some unlooked-for moment to upset the peace of the world." Hence he confidently proposed as his last point "A general association of nations . . . formed under specific covenants for the purpose of affording mutual guarantees of political independence and territorial integrity to great and small states alike"–his idea of a League of Nations.
Wilson's "Fourteen Points Message" is included in the new Ashbrook publication, 50 Core American Documents: Required Reading for Students, Teachers, and Citizens. You may read the document with Professor Christopher Burkett's introduction and questions for consideration and discussion here.