Signing of the Constitution
by Louis S. Glanzman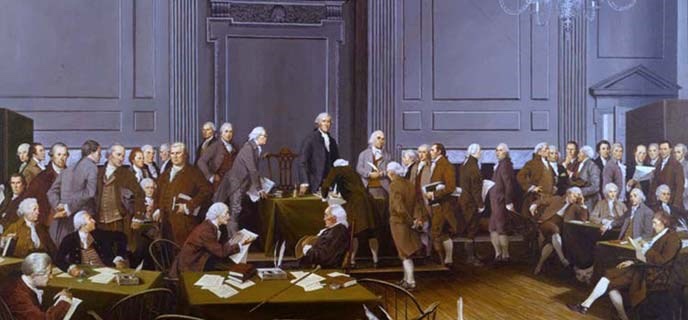 Artist's Biography
Louis S. Glanzman was born in 1922 in Baltimore, Maryland, and raised in rural Virginia. Glanzman is best known for his portraits, including entries in U.S. Air Force magazines, Readers Digest, The New Yorker, Saturday Evening Post, and Life Magazine. He created a series of historical covers for Time Magazine that began with bicentennial cover portraits of Washington and Jefferson. See the official website of Louis S. Glanzman for further information on the artist's vast and important contributions.
The Painting
There are several unique qualities to the Glanzman painting. Gone are covered windows that give a secretive character to the proceedings. In fact there are no windows at all in the room Glanzman painted, so we don't have to deal with the symbolic meanings of closed and open windows. Gone are Christy's flags — although the chandelier is still there and the Rising Sun chair is still visible — and the license that other artists took with decoration, bunting, and "accessories." This is a stark and serious, but not a grim and pessimistic, portrayal of the Constitutional Convention room. There is nothing on the walls, but there are several delegates working at tables with papers and pens, thus emphasizing the role of the state delegations and the deliberative process.
The Delegates
Recent historical research suggests that the Glanzman interpretation is the most historically accurate portrayal: the color of the walls and the features of the signers are authentic. Glanzman, like Christy, based his depictions of the delegates on portraits painted of them during their lifetimes. Like Christy, Glansman disguised a delegate. He shows Jacob Broom from Delaware signing the Constitution with his back turned to the viewer, because he was not aware of an official portrait of Broom. Again, like Christy, Glanzman included Jackson, to make a total of 40 people in the painting. But, unlike Christy, Glanzman has added the three non-signers—Gerry, Mason, and Randolph—so as to present all 43 delegates present on the last day of the Convention.
Washington is still at the center of the portrayal and he is still the tallest of them all, but there is nothing predominantly Washingtonian about this portrayal of the signing. The Rising Sun chair is there, but it is not overpowering. There are no halos, but there's lots of light.
The comments above are based, in part, on the following email from Mr. Glanzman's daughter:
Dear Mr. Lloyd,

I am writing to you on behalf of my father, Louis Glanzman. He requested that I contact you to give his permission to include his image of the Signing of the Constitution on your web-site providing you post his name alongside his work. . . .

As far as the history of the painting there is a long list of details [in] which you may be interested. To begin, my father was commissioned by the Daughters of the American Revolution to create his painting, which is the most historically accurate depiction of the event. He worked closely with several historians through the National Parks Department to create the correct color of the walls, the accuracy of the chandelier, wood moldings and various other room details. Through extensive research on his own and [using] images of each delegate . . . he had to appropriately age each portrait in his painting. There was no record of an image of the delegate from Delaware, so my father painted him from the back signing the Constitution. Subtle details such as the snuff on the tables, the delegate with the wooden leg and a male secretary recording the event [give the] accurate information that my father is famous for in his work. An important fact that he noted obviously is that everyone was not present at one time, but for the painting to be used as a educational tool he recorded all the signers. There is more information that my father would be glad to share with you but he would prefer you to call him so he may tell you in his own words. . . .

Sincerely,

Marybeth Glanzman Bortzfield