[CANCELED] One-Day Seminar: Origins of the Cold War, hosted by the Illinois Council for History Education and Illinois Mathematics and Science Academy (Aurora, IL)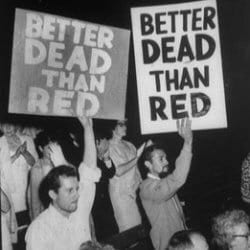 Join teachers from the Chicago area to study the origins of the Cold War, beginning with pre-WW2 documents and moving into the years immediately after the end of the war. This seminar-style program will consist of three 90-minute discussion sessions, each focused on a set of documents, and facilitated by a one of our graduate faculty. These open-ended sessions will enable participants to get to know this topic at a greater depth, through a set of original documents. Lunch and a certificate for continuing education will be provided, and paper copies of the readings will be sent to all registrants in advance of the program.
Digital copies of the reader and agenda, with program location details, will be available here after mid-February 2020.
Discussion Leader: Dr. David Krugler
The Scholar
Honored Visiting Graduate Faculty