Meet Our Teachers
Katie Klaus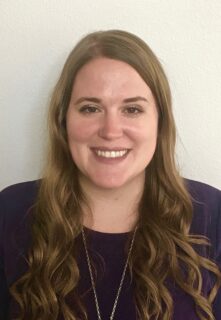 Cultivating the Skills and Habits of Responsible Citizenship
Katie Klaus, a 2018 graduate of Ashbrook's Master of American History and Government (MAHG) program, radiates positivity and energy. These qualities no doubt help her manage her teaching assignment at Woodland High School in Woodland, Washington. At the small but growing school just across the state line from Portland, Oregon, Klaus teaches government to seniors, US history to juniors, English language arts to juniors, and an elective psychology course.
Since earning a BA in history education from Brigham Young University, Klaus has hardly rested. After graduating she undertook a mission, during which she learned to speak Spanish. This led to a starting position at Woodland teaching English as a Second Language; but within the next year she began teaching her true passion, social studies.
Why MAHG Fits a Teacher's Needs
In this second year, she decided she wanted to pursue a Masters degree, but was not sure which course to take. Colleagues who earned MA degrees in education described a lot of busy work; it seemed they were taught little they had not already learned on the job. "I wanted a program with value, one that would directly impact my students," Klaus said. Financing the MA would be a challenge in itself. When she learned of the James Madison Foundation's fellowships for teachers enrolling in programs emphasizing Constitutional studies, she applied and was awarded the yearly grant offered to one teacher from each state.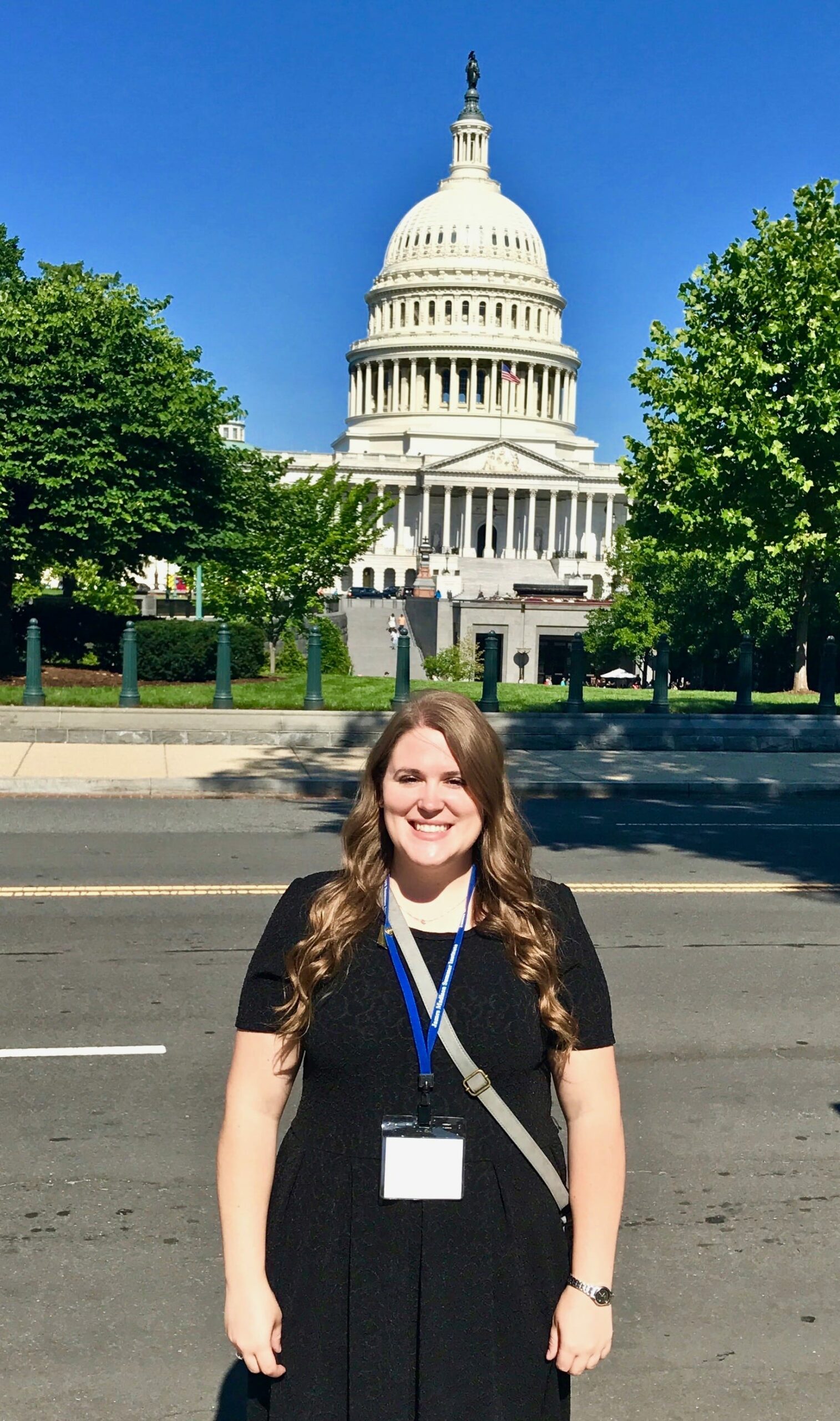 An Internet search led her to the MAHG program, which offered seminars based on primary documents in American history and political thought. She learned that a high proportion of Madison fellows choose to study in MAHG. It is designed for a teacher's schedule, with interactive online seminars during the school year and seminars in residence at Ashland University in the summer. It seemed the best fit for her needs.
The first seminar session, on a Sunday afternoon in June, dug immediately into the assigned primary documents on the American founding. "I wondered what I'd gotten into," Klaus said. "But when I went to dinner that night, I talked with other teachers who'd been in the program for a while. They made me feel comfortable." She soon realized the program was "perfect" and that, despite the extra effort needed to get to Ashland, the six required courses on campus were especially enjoyable.
"I made great friends among teachers from other states. It was nice not to have to worry about cooking for myself—to be able to just focus on the coursework." And she liked being in the same room with "professors from all across the US—from Boise State, the Rochester Institute of Technology in New York, Berry College in Georgia, and so on. They had all been carefully selected for their teaching ability."
"MAHG did not fundamentally change my teaching approach," Klaus noted, "because at Woodland High, we don't use textbooks. Several years before I began teaching there, the department started basing all their lessons on primary sources, because the available textbooks were out of date." Klaus had been well mentored in teaching from primary sources. "But MAHG introduced me to so many documents I did not know about, while broadening my content knowledge."
Taking courses on Congress, the Supreme Court, and executive powers, Klaus read speeches and court cases she could excerpt for her own students. "Of course, what I present to my class is a small portion of what is required reading for the MAHG degree. But I feel confident teaching an excerpt, because I understand its broader context. If students ask questions about related issues, I feel better prepared to answer them."
The Skills Historians Use—and Citizens Need
The program involved constant use of "the skills of historians," which, above all, Klaus wants her own students to learn. To analyze primary documents, historians use skills that citizens need when evaluating political speech in the present. One critical skill is recognizing authorial bias. All authors, including historians and journalists who claim objectivity, write from a particular perspective. But the biases of those who write informational texts can be hard to detect. Speeches, letters, and editorials from the past display points of view that are more apparent, especially when students compare documents written by those on opposite sides of a dispute.
For example, students studying the Homestead Strike, a violent clash in 1892 between Carnegie Steel Company and the Amalgamated Association of Iron and Steel Workers, might read the accounts of both management and labor. "Then you can ask, 'Which account seems more reasonable?'" This exercise may later help students evaluate conflicting sides in current policy debates.
Comparing documents from different eras cultivates another historical thinking skill. "I may ask students to compare the Mayflower Compact"—the document establishing self-government among the Pilgrims—"to the Declaration of Independence. What are the parallels? What has changed?" These are questions citizens need to ask whenever new laws or policies are proposed.
Reading documents from a range of genres deepens students' "understanding of history and why history still matters today," Klaus says. Studying the Chinese Exclusion Act of 1882—the first major law to restrict immigration into the US—Klaus's students look at political cartoons, plays of the era, and the law itself. These give insight into the fears, prejudices and economic motives behind the 1882 act, and they may help students think about current political issues facing the nation.
Studying differing reactions to a single text can help students understand political rhetoric. A carefully crafted speech can reassure a worried majority, while conveying a warning to policy and opinion makers. Many citizens listening to Franklin D. Roosevelt's 1937 "Quarantine Speech" heard the president's determination to keep the US out of the war threatening Europe. Yet Roosevelt's references to a "reign of terror and international lawlessness" in Europe warned others to prepare for war. Political speeches today may have similarly layered meanings.
Klaus acknowledges that students need basic knowledge to prepare them for active citizenship. They should understand how our constitutional system works. Yet they also need skills. Learning to recognize persuasive messages—and to analyze the reasoning in these messages—is the first priority.
The Habits of Citizens
To join the ongoing debate, they must learn other habits. When students discuss primary documents in class, they practice making reasonable arguments. When their conclusions differ, and discussion does not resolve the disagreement, "they must learn to hold different viewpoints but not hold these against each other," Klaus says.
Teaching all of these skills and habits is a large assignment. Only one part of the job bothers Klaus: her inability to reach every student. "Every student has potential, but there are some who aren't living up to that potential, and I'm unable to motivate them." Yet that doesn't stop her from trying. "Some students respond to my personality; I become 'their' teacher. Other students respond better to a colleague, and that's great too. I can't do it all, but I strive to be the kind of teacher each of my students deserve."
History and government teachers play an essential role in preparing adolescents for responsible citizenship. Yet they need the help of adult mentors from throughout the school curriculum—and the community—to complete their work.