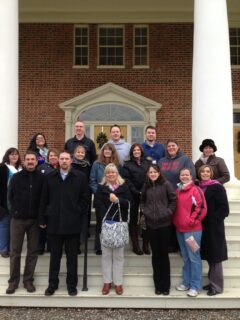 A Winter Weekend at James Madison's Montpelier
This past weekend, the Ashbrook Center was pleased to host 16 outstanding social studies teachers for a weekend colloquium at James Madison's Montpelier.
Participants read from primary source documents including Madison's pre-Constitutional Convention working paper,  "Vices of the Political System of the U.S.," several of his contributions to the Federalist series, his "Report on the Virginia Resolutions," his introduction of amendments to the Constitution in the First Congress, and some of his personal correspondence. (Explore more of Madison's writings in our online document library here.) With guidance from the accomplished historian of the Early Republican era, Dr. Todd Estes (Oakland University), we discussed key themes in Madison's thought and career, including his critique of the government under the Articles of Confederation, his blueprint for an extended representative republic designed to break the hold of faction, his shifting political alliances (if not necessarily his shifting principles), and his argument in favor of the power of states to "interpose" their constitutional interpretations while not endorsing nullification of acts of the federal government.
During one of our evening receptions, we were fortunate enough to have been joined by the Madisons themselves, who were hosting visitors for a holiday tour of the mansion. Mr. Madison kindly agreed to pose for photographs with some of our participants. Thanks to all of the teachers who joined us, and thanks to our co-sponsor for this program, Liberty Fund.