Amy Livingston's Unexpected Vocation: Teaching America's Story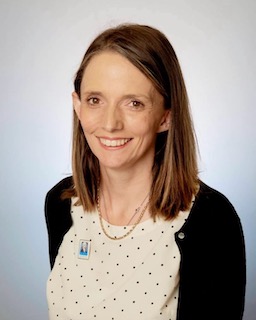 Amy Livingston never expected to find a vocation in teaching America's story. She never expected to teach at all. She was in her late twenties before she discovered her own intellectual gifts. Grade school had bewildered her. Born deaf in one ear and hard of hearing in the other, she had difficulty learning to read and struggled to keep up in class. Her third-grade teacher, unaware of her hearing deficit, got tired of explaining the lessons to her. "She kicked me out of class," Livingston recalled. Exiled to the cloakroom, Livingston spent the rest of the day looking up the dictionary meanings of words in the assignment other students had sped through.
By the next day, Livingston had been reassigned to a special education class. She had also internalized her teacher's opinion. (Only years later did she explain what had happened to her mother, a single parent struggling to keep her children housed and fed. A perceptive child, Livingston sensed her mother had enough to worry about.) School administrators and teachers never picked up on Livingston's hearing problem, and she remained in special ed until she graduated from high school.
A Path to Education Opens
Fortunately, Livingston next enrolled in the local community college, where she discovered a well-developed program for students with hearing disabilities. She learned American Sign Language, and found a community among other hard-of-hearing students. After completing 60 credits, she worked for several years as a nanny, traveling around the country.
She was 26 years old and working in Massachusetts when she fell in love with a college student—a chemistry major at the University of Massachusetts-Dartmouth. He proposed not only marriage, but that she pursue her BA degree. Somewhat jokingly, Livingston agreed to try college if he would write the application essay. He did, and Livingston soon found herself sitting in an introductory college course in US history. The professor's lecture fascinated her. The next semester, she took two more US history classes, then realized she'd found her major. "For the first time in my education, I felt super successful," Livingston said.
Teaching As the Practical Option
Livingston finished her bachelor's degree in UMASS's online program, the same month that her husband, who had transferred to the University of South Florida to get a degree chemical engineering, finished his. By then, the couple had three small children, the youngest a newborn. Student loans had ended and they had no savings. They would have been homeless had Livingston's sister not offered them room in her own home. While her husband applied for jobs, Livingston took temporary work as a teacher's aide. When a position teaching geography to ninth graders at a private high school opened, she took it.
"This was December. I was already the fifth teacher those students had had that year. I knew absolutely nothing about what I was doing." She had taken no education courses. She was provided no textbook. She was simply told, "Write the final."
"I spent the first nine weeks building a relationship with my students," Livingston said. She greeted every student entering her classroom with a handshake; she learned what she could about their interests and extracurriculars. She found interesting geography lessons online. Joining social studies teacher groups on Facebook, she built her own professional learning community (PLC). "I found other people who were good at what they did, and learned from them." The next school year, she was asked to teach not only the regular-level geography course but also AP Human Geography and World History.
Finding an Unexpected Vocation
As Livingston wondered whether to continue with teaching, her husband found the job he sought, and the family moved from Daytona to Tampa. The next fall, Livingston took a job teaching civics and government at a public middle school. "Middle schoolers are still young enough to want the occasional hug, but old enough to have interesting conversations with. And they appreciate my silly jokes." As they warmed to her, "I fell in love with teaching," Livingston remembers.
Now she wondered how to earn a teaching credential. A colleague in her online PLC suggested she go straight for a Masters in her content area. He told her about the Master of Arts in American History and Government (MAHG) at Ashland University. To fund her degree, he said, she might apply for a James Madison Foundation Fellowship in constitutional studies.
Taking on MAHG Studies
Livingston applied for the fellowship. She did not win it, but was named a strong finalist. Her husband was promoted to a new position in Tennessee, where Livingston began teaching fifth through eighth grade social studies and, later, eighth grade US history. When she queried her online colleagues about making another Madison application, MAHG Director Chris Pascarella read her post and contacted her. Why not register for a couple of courses in the MAHG program, he asked? He could arrange for a Buchwald tuition fellowship to cover the cost. Completing the courses successfully would demonstrate to the Madison Foundation her aptitude for graduate work.
"Here's this girl who was too dumb to sit with the third-grade class, who now is thinking about earning a Masters," Livingston chuckles. "But I figured that if I could complete my undergraduate degree while having three kids, I could get through one or two 8-week online graduate courses." She began the program. Applying again for the Madison Fellowship, she was awarded it.
Meanwhile, the MAHG program was increasing Livingston's commitment to teaching America's story. "My love and respect for our country's history, for our founding, and for the American spirit grew so much. I became more passionate in my teaching."
Our Perfectible Union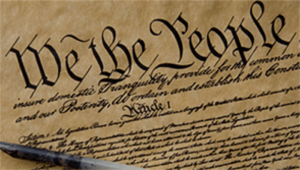 "The Constitution is just so beautiful," she says. She quotes the motto of the Florida Supreme Court, "Sat Cito Si Recte," a Latin phrase meaning "Soon enough, if correct." In the context of the judiciary, the phrase means that correct rulings arise from long and careful deliberations. Applying the motto to the federal Constitution, Livingston points to the many debates that have shaped it.
"The founders knew that the Constitution wasn't perfect. They designed an amendment process, to help us keep working toward a 'more perfect union,'" she tells students. She adds that the founders believed constitutional government would work only if citizens understood their governing framework and the principles it is based on. When her middle school students asked, "Why do we need to learn about American government in the seventh grade?" she replied, "Statistically, here where we live, 15% of you won't make it to your 12th grade government class. If you do choose to drop out—which if you do, I'm gonna take my shoes and throw them at you!—you will at least have a basic understanding of how constitutional government works."
She throws a party on Constitution Day—September 17. She decorates her classroom with red, white and blue crepe paper and hands out pocket Constitutions, telling her government students that "this will be your textbook for the rest of the year."
A Teacher's Influence
"Because of MAHG, I've begun using way more primary sources," Livingston says. "They give you history straight from the horse's mouth, not somebody's interpretation. I can say to students, 'Here is what Lincoln said; what do you think about that?' I don't want to hear what Amy Livingston thinks—what do you think?"
"Teachers wield so much influence," Livingston muses. "My seventh-grade science teacher said, 'You can't believe in God and science at the same time.'" Livingston widens her eyes and laughs at the memory. "Too many students think, 'That's what my teacher said, so it must be true.'" Livingston uses her own influence carefully.
Teaching America's story with thoroughness, but without bias, is simpler with primary documents. MAHG gave Livingston binders full of sources and helped her understand their context. It also helped her trace persistent themes. For example, "in every single course I took in the program, we talked about race—although never about 'critical race theory.' We just covered the facts. I grew up in Connecticut, not realizing that during the earliest years of our history, slavery existed there, and in all the colonies—not only in the South. Students appreciate the honest story."
Livingston finished her MAHG degree in August 2023. Because of her husband's latest career move, she is now teaching 11th grade US history and 12th grade government at Chancellor High School in Fredericksburg, Virginia. About 36% of the student body identifies as Hispanic, 33% as Caucasian, 21% as African American, and the remaining tenth as Asian or of mixed-race ancestry. At least 11% are English language learners, and over 14% struggle with disabilities. Livingston is responsible for 180 students, divided into six sections. She wants to help them all, but there is no time for individualized instruction. Still, she cultivates their trust. When a student forgot her name and called her "Ms. Bro," Livingston laughed, chipping away some older adolescent wariness.
She plans provocative lessons. For a unit on voting and media literacy, she presented students with a list of ten unnamed historical leaders, differentiated only by cherry-picked biographical facts. Hitler was described as a poor youth who dreamed of attending art school, earned his way to wealth and authority, received a medal for bravery in war, and was devoted to the advancement of his country. Lincoln was described as having suffered a nervous breakdown, lost 62% of the elections in which he ran, and presided over a violently divided country, aware that half its citizens despised him. "Asked, 'would you vote for this candidate?' most students choose Hitler and never Lincoln," Livingston said. "When they learn the identities of the leaders, they're shocked—but then we have a great discussion about researching candidates carefully."
Teaching America's story, Livingston will do what it takes. If her students realize that they are each "a part of the American story, and that they have a responsibility to make sure that this story continues," she'll count her work a success.