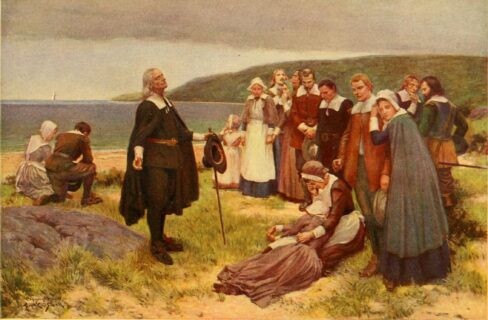 Core Documents Collection: Religion in American History and Politics
"You can't understand American History without understanding the role of religion in our history and politics…"
TAH.org's Core American Documents collection on Religion in American History and Politics is now available on Kindle, iTunes eBook, PDF, and print on demand.
This volume, the companion to TAH.org's Religion in America site, includes 25 documents with summaries and annotations, an introduction to the theme of religion as a part of American history and politics, appendices with additional information, study questions for each document, and suggested further readings.
Sign up for early access to each upcoming volume!
As in the other volumes, each Core Documents volume will contain the following:
Key documents on the period, theme, or institution, selected by an expert and reviewed by an editorial board
An introduction highlighting key documents and themes
A thematic table of contents, showing the connections between various documents
Study questions for each document, as well as questions that refer to other documents in the collection
Notes on each document to identify people, events, movements, or ideas to improve understanding of the document's historical context.
When complete, the series will be comprehensive and authoritative, and will present America's story in the words of those who wrote it – all united in their commitment to equality and liberty, yet so often divided by their different understandings of these most fundamental American ideas.
In sum, our intent is that the documents and their supporting material provide unique access to the richness of the American story. We hope that you will find this resource to be intriguing and helpful for your classroom.
Please contact Daniel Mitchell if you have any questions or would like more information about using the Core Documents Curriculum in your classroom.
Thank you for all that you do!