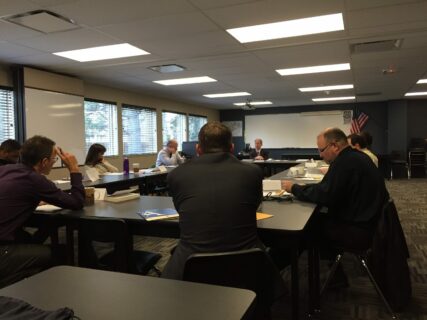 Ft. Collins Seminar on American History & Government
Ridgeview Classical Schools hosted an Ashbrook Seminar in American History and Government on January 31st for a group of teachers from around and near Fort Collins. Professor Peter Myers facilitated a day-long discussion about Civil Rights, in which teachers were able to discuss the evolution of the ideas, laws, and movement related to this important thread in American history and society.
Of particular interest to participants were the ideas of legal rights, political rights, and social rights, and how the three contribute to, and yet differ from one another. Additionally, teachers discussed the legal ambiguity that existed after the end of the Civil War, and how southern states sought, through legislation like the Black Codes, to define freedmen and give them what was considered to be acceptable legal status – all before the 14th Amendment was ratified, making them citizens.
Teachers also had an opportunity to discuss in detail the writings of Bayard Rustin, a civil rights thinker whose ideas formed part of the foundation of Martin Luther King, Jr's methods of nonviolent protest.
If you'd like to read some of the documents used for this seminar, please refer to the links below.
Black Codes of Mississippi (1865)
Bayard Rustin, selections:
Martin Luther King, Jr., selections available here:
     "Letter from Birmingham Jail" (April 16, 1963)
     "I Have a Dream" (August 28, 1963)
     "The Black Power Defined" (June 11, 1967)