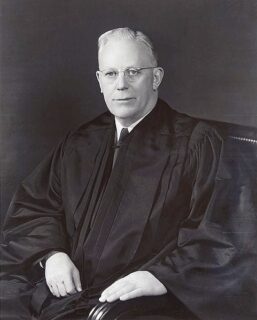 The 60th Anniversary of Brown v. Board of Education
Tomorrow, May 17, is the 60th anniversary of a momentous Supreme Court decision: Brown v. Board of Education. The case reversed earlier Supreme Court rulings on the legality of segregation in public facilities—notably Plessy v. Ferguson (1896), a ruling in favor of a Louisiana state law requiring blacks to surrender to whites their seats on trains, and Cumming v. Richmond (Ga.) County Board of Education (1899), in which the Court upheld a school board's decision to spend money on a high school for whites while closing a high school for blacks.
By 1954, a few judicial victories for desegregated education had been won. Between 1936 and 1950 the NAACP's Legal Defense and Education fund successfully sued in four instances involving higher education (three involving applicants not admitted to law schools and the fourth involving a black student admitted to a doctoral program but forced to sit apart from white students.) But Brown was the first to successfully sue for desegregation of the public schools children attend, and since the Court consolidated five different cases from several states, the decision would have broad impact. However, the Court did not immediately specify the means by which the plaintiffs would be given relief. It invited the "Attorneys General of the states requiring or permitting segregation in public education" to submit new briefs on this question the following fall:
"Because these are class actions, because of the wide applicability of this decision, and because of the great variety of local conditions, the formulation of decrees in these cases presents problems of considerable complexity. On reargument, the consideration of appropriate relief was necessarily subordinated to the primary question — the constitutionality of segregation in public education. We have now announced that such segregation is a denial of the equal protection of the laws. In order that we may have the full assistance of the parties in formulating decrees, the cases will be restored to the docket, and the parties are requested to present further argument . . . ."
On May 31, 1955, the Court announced a plan by which desegregation was to proceed.