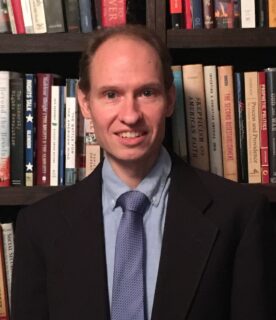 Daniel K. Williams is a senior fellow and director of teacher programs at the Ashbrook Center at Ashland University. Before joining the Ashbrook Center, he was a tenured professor of history at the University of West Georgia, where he taught courses on the history of the United States, with a particular focus on American religion and politics.
His published books include God's Own Party: The Making of the Christian Right (Oxford University Press, 2010); Defenders of the Unborn: The Pro-Life Movement before Roe v. Wade (Oxford University Press, 2016); The Election of the Evangelical: Jimmy Carter, Gerald Ford, and the Presidential Contest of 1976 (University Press of Kansas, 2020); and The Politics of the Cross: A Christian Alternative to Partisanship (Eerdmans, 2021). He is also co-editor of The Right Side of the Sixties: Reexamining Conservatism's Decade of Transformation. His analyses of American religion and politics have been published in Christianity Today, the Atlantic, the Washington Post, and the New York Times.
He holds a B.A. in history and classics from Case Western Reserve University and a Ph.D. in history from Brown University.