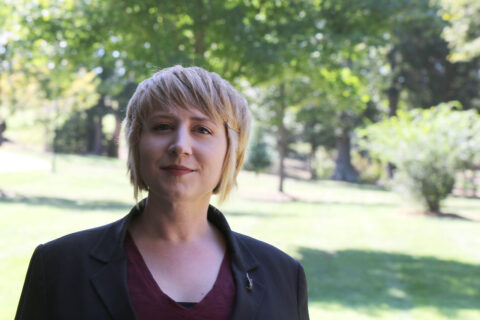 Dr. Elizabeth Amato is Associate Professor of Political Science in the Department of Social Science at Gardner-Webb University. Her teaching responsibilities include courses such as Constitutional Law, American Political Thought, African American Political Thought, Presidency & Congress, American Political Parties, Ancient and Medieval Political Philosophy, and Modern Political Philosophy. She also offers special topics courses on the pursuit of happiness, statesmanship, first ladies, women and politics, and the politics of coffee and tea.
Dr. Amato is the faculty adviser for the Pre-Law Society, a club that helps students explore and prepare for a career in law.
Dr. Amato earned her B.A. at Berry College (Rome, GA), her M.A. and Ph. D. at Baylor University (Waco, TX) in political science. Her dissertation, "The Pursuit of Happiness and the American Regime," takes a politics and literature approach to understanding the pursuit of happiness. Before coming to Gardner-Webb University, she taught at James Madison College at Michigan State University (East Lansing, MI).
Dr. Amato's scholarly interests include the study of happiness, friendship, politics, literature and film, Tocqueville, and American political thought. Her non-academic past times include drinking coffee, watching action films especially from the 1980s, baking and candy-making, reading children's books, watching cartoons, growing herbs and container gardening, packing bento boxes, feeling guilty for not composting more, running, finding new ways to add serrano peppers to food, collecting glassware, decorating with pineapples, and reading poetry on Sundays. She keeps two cats, Pericles and Perseus.