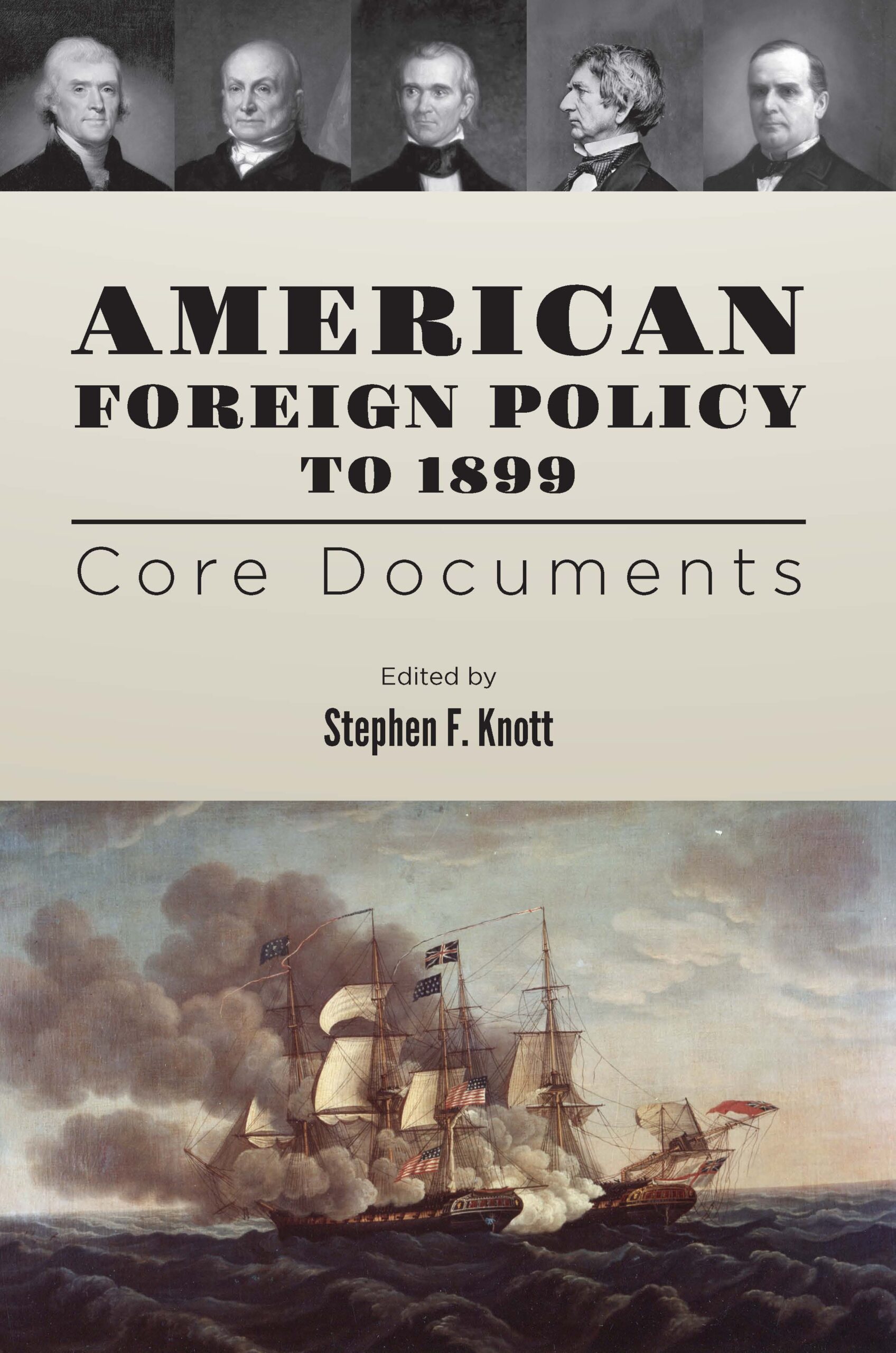 American Foreign Policy to 1899
Teaching American History is happy to announce the appearance of a new volume in its Core Document series, American Foreign Policy to 1899, edited by Stephen F. Knott. The volume covers the key events of its period, for example the wars with Mexico and Spain, and such topics as the Monroe Doctrine and the debate over late nineteenth century imperialism. It is distinguished by its attention to the role of the President in foreign policy and the use of clandestine operations by the United States. These two points are connected. As Steve explains, Presidents from Washington onward were given broad discretion, as well as funds, for which they did not have to account, so they could act overseas in the best interests of the United States. The documents in this volume show presidents using this grant of power and defending it from Congressional scrutiny. In this way, the volume provides context for similar debates recounted in another core document volume, The Cold War, edited by David Krugler.
American Foreign Policy to 1899 forms a pair with the already published volume Westward Expansion. Covering roughly the same time period as American Foreign Policy, Westward Expansion deals with the acquisition of territory that became states, while American Foreign Policy to 1899 deals with everything else. Both volumes show Americans struggling with the moral and political issues raised by our growing ability to extend power beyond our early borders.
We plan to complete the Core Document series' account of foreign policy with a sequel to Steve's volume, American Foreign Policy Since 1899, which John Moser will edit.
Like other volumes in the series, American Foreign Policy to 1899 contains a thematic table of contents, an extensive set of study questions, and a list of suggested readings in the secondary literature. The introduction to the volume puts its selection of documents in a broad context, while the introductions to the individual documents provide necessary background and historical detail. Steve's thorough knowledge of American foreign policy and the presidency, and his keen grasp of the issues involved, open up over 100 years of American foreign policy for discussion and improved understanding.
Perhaps my favorite document in the collection is the official correspondence between Secretary of State Seward and Charles Francis Adams, US Ambassador to London in 1861. The document shows that in the midst of the greatest crisis our democratic republic has ever faced, those responsible for foreign policy managed it with intelligence, moral seriousness, and dignity.
Steve's volume and all of the published volumes in the Core Document series are available in the tah.org bookstore, both as a PDF download (free) and a paperback ($12.99).