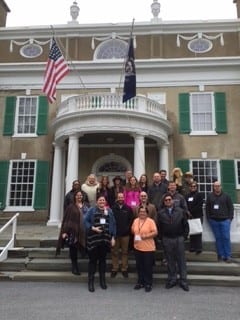 Program Report: Liberty Fund Co-Sponsored Weekend Seminar in Hyde Park, NY
Last weekend 18 teachers from around the country came together in Hyde Park, New York for a Liberty Fund Co-Sponsored Weekend Seminar on Franklin D. Roosevelt.
Topics of conversation considered whether or not the New Deal programs achieved their intended goal, the constitutionality of the programs and to what extent the New Deal has created today's "entitled state". Teachers discussed the need for expanded presidential powers when a crisis is at hand, yet, when the crisis abates, does any President relinquish the control? Roosevelt changed the dynamic of the Presidency and expanded government control over economics and domestic policies. After a long day of thoughtful discussion, teachers toured Franklin Roosevelt's Hyde Park home and his Presidential Museum.