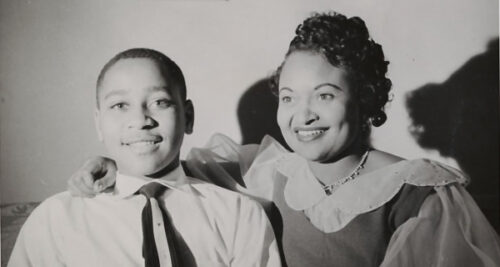 The Emmett Till Anti-Lynching Act
One year ago, on March 7, 2022, the Emmett Till Anti-Lynching Act was passed unanimously by the Senate. Having been passed by the House a week earlier, it became the first anti-lynching law ever to make its way through Congress. It was signed into law by President Biden on March 29, 2022. The law amends the already existing federal law against hate crimes.
It imposes criminal penalties—a fine, up to 30 years of imprisonment, or both—on anyone who commits a hate crime that results in death or serious bodily injury. It also makes anyone who conspires to kidnap, kill, or commit aggravated sexual abuse liable to these punishments.
Below we repost Professor David Krugler's account of the trial of those who murdered the fourteen-year-old boy for whom the law is named—Emmett Till. His mother's decision to publicly enact her grief and outrage, and his murderers' widely reported acquittal, helped to galvanize the mid-twentieth century civil rights movement. But the activists of the 1950s and 60s were hardly the first to demand justice for the victims of racial violence. Next week we'll discuss some of the earlier efforts to secure a federal anti-lynching bill.
The Trial of the Murderers of Emmett Till
by Professor David Krugler
Ceiling fans stirred the sweltering air deep in the Delta on Friday, September 23, 1955. Twelve white men exited the jury room in the Tallahatchie County courthouse in Sumner, Mississippi. During the last several days, this all-white jury had heard testimony in a murder trial. Two white men, J.W. Milam and his half-brother Roy Bryant, were charged with the murder of Emmett Till, age fourteen, an African American who had come South from Chicago to visit family. The courtroom was jammed, as it had been all week, with more than 200 hundred observers, the majority white, attending. Dozens of reporters were also present, filing stories with both regional and national newspapers. The sheriff segregated the black reporters, requiring them to cram around a folding table in a corner while the white press was seated close to the judge and jury.
The courtroom crowd indicated there was something unique about the proceeding. It was the fact it was being held at all. The state of Mississippi rarely investigated, let alone prosecuted, the murder of blacks by whites. Between 1882 and 1951, white mobs lynched 534 African Americans in Mississippi without fearing arrest, trial, or conviction. "That river's full of [blacks]," a white man matter-of-factly told a reporter for The Nation, referring to the Tallahatchie River, where Emmett Till's bloated, mutilated body had been found.