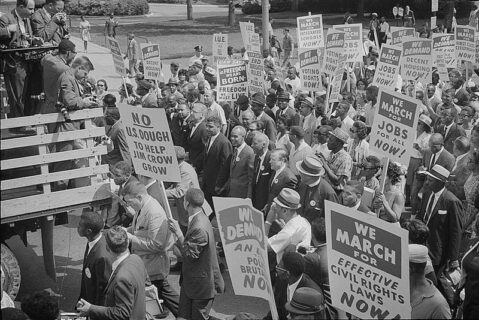 Core Documents: 2 Volume "Documents and Debates" now available
The latest volumes of  our Core American Documents Collections – Documents and Debates – are now available!
TAH.org and professors Rob McDonald and LTC Seanegan Sculley from the History Department at the United States Military Academy at West Point worked together to create a two-volume set of documents readers, which starting in Fall 2018, will be used by all West Point cadets in their two-semester American History survey course. These volumes are structured around a series of topics, each based on a debatable question. For each topic there is a collection of documents that, together, form the basis of argument over that topic – from those who debated it at a given point in American history. For example, students will have the opportunity to understand why and how FDR and his administration made a case for Social Security, and will also read reasoned arguments against the program. The goal is to explore a series of critical moments in American history by asking questions for which there are not simple yes/no answers, but instead call for informed discussion and rational debate – where answers can be said to be valid, but not necessarily wrong or right.
These readers also include appendices of additional documents, and together are a perfect fit for any American History survey course, including AP United States History.
Available Now!
Volume 1: 1493-1865: iTunes, Kindle, and PDF.
Volume 2: 1865-2009: iTunes, Kindle, and PDF.
Download both volumes – PDF here
Hard copies are also available for $10 each – email [email protected] if you would like to place an order.
"Learning about history is not only about learning content – it's about learning skills…" Listen to today's podcast:
As in the other volumes, each Core Documents volume will contain the following:
Key documents on the period, theme, or institution, selected by an expert and reviewed by an editorial board
An introduction highlighting key documents and themes
A thematic table of contents, showing the connections between various documents
Study questions for each document, as well as questions that refer to other documents in the collection
Notes on each document to identify people, events, movements, or ideas to improve understanding of the document's historical context.
When complete, the series will be comprehensive and authoritative, and will present America's story in the words of those who wrote it – all united in their commitment to equality and liberty, yet so often divided by their different understandings of these most fundamental American ideas.
In sum, our intent is that the documents and their supporting material provide unique access to the richness of the American story. We hope that you will find this resource to be intriguing and helpful for your classroom.
Please contact Daniel Mitchell if you have any questions or would like more information about using the Core Documents Curriculum in your classroom.
Thank you for all that you do!