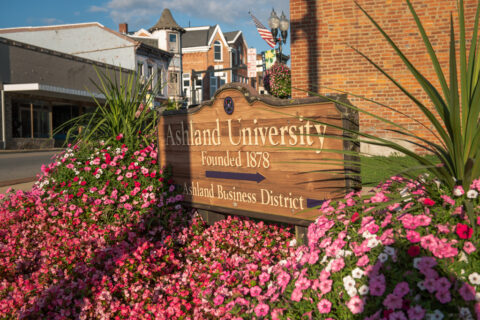 How MAHG Long-Haulers Spend Their Summer Vacations
Among teachers who readily embrace the excitement and challenge of the Master of Arts in American History and Government program, those dubbed the "Long-Haulers" inspire the most wonder. These are the handful of teachers each summer who spend four consecutive weeks at Ashland University, living the residential component of the program to the max. Most teachers studying in MAHG feel a combination of exhaustion and exhilaration at the end of a single week's course, as if they've just emerged from a marathon. The Long-Haulers put themselves through this four times in a row, with only three day-long breaks between sessions.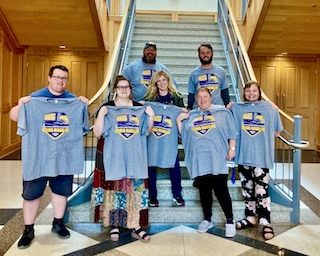 Each session entails six days in the company of ten to twenty fellow professionals, engaging in a searching discussion of (on average) 900 pages of primary documents. Reading so much of what earlier Americans said about their problems and choices gives teachers an intense awareness of the perennial challenges of self-government. Finishing a course, they're tired, but bursting with ideas to share with their own students.
It's the very best kind of fatigue. Good enough that many teachers sign up to take two or more courses in a row. Only a few opt to take four courses in sequence. Why do they? And how do they manage it?
Doesn't Everyone Register for All Four?
"I thought it was just what everybody did," said Heather Caldwell Sebetich of Columbus, Ohio. For years she had been attending Teaching American History's one-day and multi-day seminars, planning to begin the MAHG program once her own children finished college. By the spring of 2023, she was ready to start. She reached out to MAHG Director Chris Pascarella, who sent her a list of courses not yet fully enrolled, and she gravitated toward four.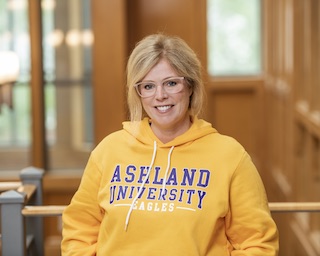 The American Presidency, Part II was an easy choice for the first week, as Sebetich had recently enjoyed a multi-day program led by its facilitator, Steven Knott, just retired from the Naval War College. The second-week course on Women in American History and Politics, led by Charissa Threat of Chapman University, covered the topic in greater depth than Sebetich had yet studied it. The third-week course on Race and the Fourteenth Amendment, led by Elizabeth Amato of Gardner-Webb, tackled questions very much on the minds of today's students. Finally, as a professional actor in regional theater and occasional films, Sebetich felt a natural interest in the fourth-week course on American Political Rhetoric, what one might call the "performance side" of statesmanship. It would be led by Abigail Vegter of Berry College.
Managing the Readings and Exams
Sebetich was puzzled but not deterred by Pascarella's surprise that she planned to take four consecutive courses. She knew she would need to complete most of the reading for the courses before arriving in Ashland. But if she did all of the reading ahead of time, she would have a hard time keeping all of the documents straight. She planned to complete two-thirds of the reading for each course in advance, finishing the rest in the evenings during the course.
Then, while attending a one-day program in Marion, Ohio, she saw a friend, an alum of the MAHG program, who reviewed her course choices and syllabi. "You've chosen courses by a great team of faculty," he said. "But this is a lot for one summer. Here's what I recommend: if at all possible, finish your work for each course before the next week begins."
He explained that MAHG provides a box lunch after the second morning seminar on Fridays. Some professors assign an in-class exam for the last class session, allowing students to eat as they type their exams on their laptops. Others dismiss class, allowing students to use the time to begin work on a take-home exam. "Eat your lunch and then hit the ground running on that exam," the friend advised. "Do your best to get it handed in by late Saturday evening, so that you can then look ahead to the next week."
"That is exactly what I did," Sebetich said. She finished Knott's take-home exam by 3:00 pm on Saturday of the first week. "On another week, I finished by 6 pm Saturday, and a third time, by a bit later on the Saturday evening. Then I could spend Sunday morning and early afternoon reviewing the reading for the upcoming course."
By the last day of the summer program, Sebetich had already received her grade for Knott's course. She felt it was "very good, and fair." She did not yet know whether her strategy for the take-home exams would serve her as well, but she felt confident. At any rate, "I just could not have had a previous week's assignment looming over me as I began a new week."
Engaging in the Daily Discussion
Grades in the MAHG program do not ride entirely on the final exam; professors are expected to count class participation for a significant portion of the course grade. "As teachers, we're used to talking," Sebetich said, but she knew that her comments needed to go beyond echoing points already made. They needed to deepen the overall discussion. "My degree is in education of the deaf," Sebetich continued. "When you're certified to teach the deaf, you're considered qualified to teach any subject from kindergarten through twelfth grade. Of course, I don't have the depth of knowledge in history and government that many teachers bring to this program. But I can listen to and learn from my colleagues. And the professors are super encouraging. They don't make you feel silly for asking a question about the context or interpretation of a document. They count that as participation."
An Early-Career Teacher Plots Her Strategy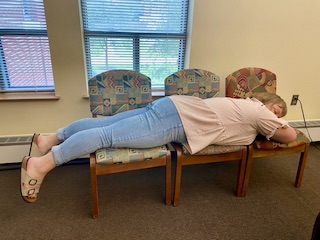 Sebetich shared an on-campus apartment with Trisha Brown of Bakersfield, California. Brown also signed up to take four residential courses, "because I hope to finish my degree next summer." This fall she begins her seventh year of teaching, with a schedule that includes world history, sociology, psychology and a competitive mock trial course open to freshmen through seniors. Energetic and ambitious, Brown has led her mock trial team to the county championship four years in a row. (This past year, her team also took eighth place out of 32 at the state level and fourth out of 32 at an international competition.) Brown faces challenges confidently, expecting to succeed.
She took her first summer residential course in 2022. To complete the residential portion of the program, she needed to take seven more, and decided to make the summer of 2023 the long slog. "Hopefully, next summer will be easy-peasy," she said. Like Sebetich, she set out to complete each final exam during the weekend between courses. She, too, chose one course that offered an in-class final (The Supreme Court, taught by Jeff Sikkenga of Ashland University). She completed the take-home final for her second course by Sunday morning of the third week. Brown spent the weekend between the third and fourth course in Cleveland with her mother. Enjoying the Rock and Roll Hall of Fame with Mom meant that Brown was unable to finish the third week final before the fourth week began.
Learning Study Skills, Content to Share With Students
Like Sebetich, Brown completed the reading ahead of time up through the Wednesday of each week's class. "When I started reading for each course on Sunday, I was reading for Thursday and Friday, while refreshing myself a bit on what I'd already read. I also annotated what I read, putting notes in the margins and stars next to what I thought was the money quote. That way, when I looked back at documents, I remembered the essential points." (Through the latter practice, Brown has learned study strategies that she is already teaching her students at Centennial High School.)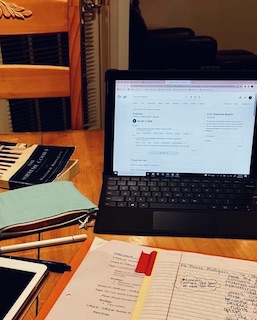 The fourth-week course involved a "Reacting to the Past" game on the 1945 Yalta Conference, which drew the political outlines of the world following World War II. For this course, Brown's strategy of reading only two-thirds of the material ahead of time seemed inadequate. Playing in the game meant taking on the role of one of the historical figures who negotiated for his country's team at Yalta, and to fill the role (which was assigned only after the week began), a player had to read extra material about the character.
Assigned the role of Beria, Stalin's powerful Chief of Internal Security, Brown adopted his ruthlessly focused strategy. She identified positions the Soviet Union considered non-negotiable, refusing to discuss anything that deviated from them. At the conclusion of the game, Professor Moser (Ashland University) said the outcome was the closest he had ever seen, with the leading teams separated by only a single point. "It was very challenging," Brown said, "but I learned a lot about the second world war, from a perspective I had never before studied. I'll share a lot of this with my world history students."
Teachers Support Each Other Through the Long Haul
Sharing the same apartment during the residential program, Sebetich and Brown understood the effort each was making through four continuous weeks. The support of other teachers makes a big difference to the Long-Haulers. Two other MAHG students who became close friends during the summer of 2022—Brian Crouse of Bluefield, Virginia and Thomas Lundstedt of Bedford, New Hampshire—arranged to share a room and ride out the four weeks together.
They also decided to take the same first session course: The Progressive Era. One of the mandated "core courses," it entails reading long excerpts of political theory written between 1890 and 1920. Often dreaded, the course is appreciated in retrospect, since it illuminates the critical shift in American constitutional thought that occurred at the close of the nineteenth century.
Beginning the course, Crouse and Lundstedt both felt they understood the reading they had done in preparation. After the opening Sunday afternoon session, however, they admitted to each other their surprise at the questions the professor (Jason Jividen of St. Vincent College) had posed. "We needed to change the game plan," Crouse said. After breakfast, they sat down together to "spitball" their reactions to each reading for the day ahead. "We spent about ten minutes identifying the main point of each excerpt," Crouse said. This joint review helped them greatly; each felt fully engaged in the three Monday sessions.
The study strategy Crouse and Lundstedt devised combined two aspects of the residential program both value: spending dedicated time learning about the seminar topic and sharing camaraderie with other lovers of history. Sharing meals and short joint study periods meant that "every moment of the week could be a teaching moment."
Faculty Encouragement Helps
They also appreciated the fact that their professors were available for questions not only during class sessions but also during meals in the cafeteria or during the afternoon social hour. As Crouse said, the professors want to communicate that "Just because my name is followed by 'Ph.D' does not mean that you cannot go to the same primary sources I go to for information on history."
Supportive professors, the Long-Haulers agreed, alleviate the stresses of a marathon summer. Brown gave particular examples. "Professor Sikkenga opened the discussion of many documents by saying, 'I'm sure you all know this. But let me give you some context, just as a reminder.' And half the time, we teachers were all looking at each other, thinking, 'Well, we don't know that, but you just made me us feel a lot smarter by assuming we did.'"
Professor Threat used a classroom strategy Brown hoped to implement back in her high school classroom. "Those of us in the women's history course had gotten to know each other well, and when we came in each morning, we were often rowdy. Instead of saying, 'Quiet down now, it's time to focus!' Threatt would say, 'I can tell everybody's got a lot of really great energy this morning. We're going to have a fantastic discussion!"
Four Weeks Build Deep Professional Friendships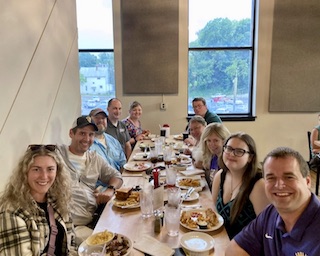 In the end, the hard part about spending four consecutive summer weeks at the residential MAHG program is just the flip side of the positive. "Being away from home and family is hard," Lundstedt said. But the reward is time with friends who share your love of history. "You want to balance the time you spend studying with time spent talking with your peers about interesting historical and political topics that come up—not all of which directly relate to the course readings." Conversations with colleagues who care about the same important issues recharge the mind and spirit for another challenging year of teaching.