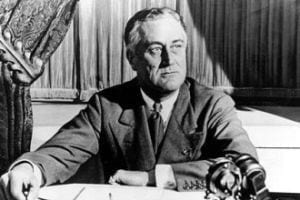 Roosevelt's "Forgotten Man"

Franklin D. Roosevelt was born on this day in 1882. Among Roosevelt's many innovations in American politics was his use of the radio address. In fact, Roosevelt began using this medium to significant effect before his election as president and his well-known series of "Fireside Chats." For example, this campaign speech made on April 7, 1932, helped prepare the public to accept his eventual program as president, when he proposed federal programs to guarantee the economic security of Americans.
Roosevelt here announces what would become his major theme: championing the low-wage worker, so many of whom had been put out of work by the Great Depression. FDR's "forgotten man" is the worker "at the bottom of the economic pyramid." Ironically, the phrase "forgotten man" had first been used to title a lecture by Yale economics professor William Graham Sumner, to refer to those, primarily in the middle class, who fund government social welfare programs they did not devise.