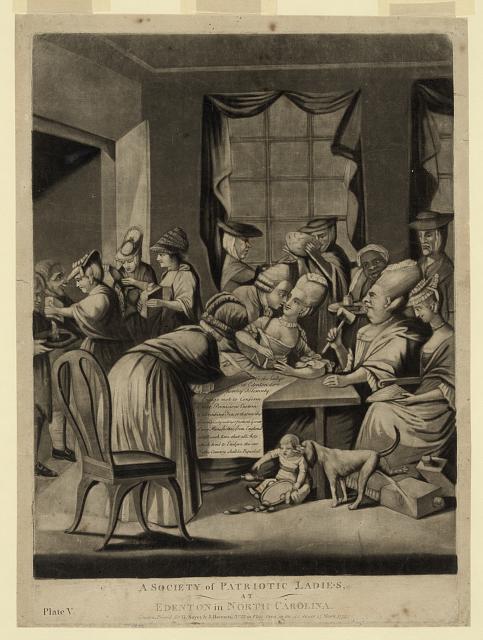 Women's Rights & Roles: The American Revolution
In anticipation of the 100th anniversary of the ratification of the 19th Amendment granting women the right to vote (which became part of the Constitution on August 18, 1920), from August 2019 – August 2020, we will be highlighting documents both here and on our sister site, Religion In America written by or about women.
This month, we feature four documents from women in revolutionary America that illustrate their engagement with the political issues of the time.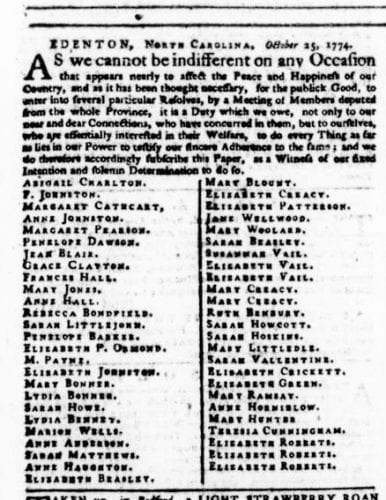 Society of Patriotic Ladies at Edenton in North Carolina | 1775
As the conflict between the colonies and Great Britain intensified, men and women in North America banded together to create "associations" for the purpose of boycotting British goods in order to put pressure on Parliament to repeal the various taxes that had been imposed on the colonists' imports. The Edenton Association was unusual in that its signatories were exclusively female. While the association was the subject of some negative attention (the ladies were satirized in a print that emphasized their relative luxury and suggested they neglected "natural" female accomplishments in pursuit of their political interest), in both the domestic and London newspaper accounts of the association, the listing of the names appeared without substantial commentary, which suggests that such political activism although unusual enough to arouse notice was not entirely out of the realm of acceptable female behaviour.
"Remember the Ladies": Letters between John and Abigail Adams | 1776
This famous exchange between John and Abigail Adams highlights the possibilities inherent in the Revolutionary moment and the rhetorics of political equality being used to justify the American movement for independence for women to realize citizenship rights in a radical new way.
An American Monarchy or a Republic? Letters between John Adams and Mercy Otis Warren | 1776
Mercy Otis Warren (who would go on to become one of the first historians of the American Revolution) was a devoted Patriot, sister to the brilliant but ill-fated James Otis, and a long-time friend of both the Adams. In this exchange you can see how Warren serves as a sounding board for John Adams, allowing him to test the readiness of the American people for a switch not only in their governors but in the form of their government.
Redcoats in South Carolina, Eliza Yonge Wilkinson | June 1779
We sometimes forget that the Revolution was an actual military struggle, and that there were costs not only in lives but in property and dignity, as indicated in Eliza Yonge Wilkinson's account of the assault she and her relatives endured at the hands of the British soldiers.