Why did Malcolm X believe the civil rights movement needed a new interpretation? What was this new interpretation? Malcolm declared that he and his black compatriots were not Americans, and he rejected interracial integration as an objective. Yet he also rejected segregation, and he counseled black citizens to reeducate themselves in the prudent use of the ballot. How can these positions be reconciled with one another? How did Malcolm conceive of black nationalism? What would it demand of black Americans, and of white Americans? Is it a realistic vision? An appealing vision? Why or why not?
Introduction
Malcolm X was born Malcolm Little on May 19, 1925, in Omaha, Nebraska, to parents who were followers of the Jamaican-born black nationalist Marcus Garvey. After his father, Earl Little, died in a streetcar accident in 1931 and his mother descended into chronic mental illness, Malcolm lapsed into a life of criminality as a teen. He was convicted of grand larceny before he reached the age of twenty. During his prison years, a fellow inmate inspired Malcolm to embark on a course of self-education. Meanwhile, some of his siblings had joined the Nation of Islam (NOI), a black nationalist adaptation of Islam founded by a Detroit-area preacher in the late 1920s. After his release from prison in 1952 Malcolm, too, became a member. He rose quickly as a minister in his new faith, eventually securing a national platform as minister in the NOI's Temple No. 7 in Harlem.
In July 1959, a New York television station aired a documentary series on the NOI titled The Hate that Hate Produced, which rendered Malcolm a threatening figure in the minds of many whites and, at the same time, contributed to a sharp increase in NOI membership. Amid his rising prominence, however, Malcolm grew increasingly troubled by the public positions and private character of NOI leader Elijah Muhammad. In March 1964 Malcolm renounced his NOI membership and declared his commitment to orthodox Islam. The break with the NOI moved him to rethink his views on some basic issues, and it also endangered his life. On February 21, 1965, Malcolm was murdered at Harlem's Audubon Ballroom. Three NOI loyalists were eventually convicted of the crime.
The present selection, Malcolm's best-known speech, represents his evolving thinking after his break with the NOI.
—Peter C. Myers
Source: Malcolm X, Malcolm X Speaks, ed. George Breitman (New York: Grove Press, 1965), 22–28, 31, 32, 38–41, 42, 43, 44; Malcom X, "The Ballot or the Bullet," © 1965 by Betty Shabazz. Used with permission of X Legacy, LLC.
---
. . .The question tonight, as I understand it, is "The Negro Revolt, and Where Do We Go from Here?" or "What Next?" In my little humble way of understanding it, it points toward either the ballot or the bullet. . . .
Although I'm still a Muslim, I'm not here tonight to discuss my religion. I'm not here to try and change your religion. I'm not here to argue or discuss anything that we differ about, because it's time for us to submerge our differences and realize that it is best for us to first see that we have the same problem, a common problem, a problem that will make you catch hell whether you're a Baptist, or a Methodist, or a Muslim, or a nationalist. Whether you're educated or illiterate, whether you live on the boulevard or in the alley, you're going to catch hell just like I am. We're all in the same boat and we all are going to catch the same hell from the same man. He just happens to be a white man. All of us have suffered here, in this country, political oppression at the hands of the white man, economic exploitation at the hands of the white man, and social degradation at the hands of the white man. . . .
If we don't do something real soon, I think you'll have to agree that we're going to be forced either to use the ballot or the bullet. It's one or the other in 1964. It isn't that time is running out—time has run out! Nineteen sixty-four threatens to be the most explosive year America has ever witnessed. The most explosive year. Why? It's also a political year. It's the year when all of the white politicians will be back in the so-called Negro community jiving you and me or some votes. The year when all of the white political crooks will be right back in your and my community with their false promises, building up our hopes for a letdown, with their trickery and their treachery, with their false promises which they don't intend to keep. As they nourish these dissatisfactions, it can only lead to one thing, an explosion; and now we have the type of black man on the scene in America today—I'm sorry, Brother Lomax1—who just doesn't intend to turn the other cheek any longer. . . .
I'm not a politician, not even a student of politics; in fact, I'm not a student of much of anything. I'm not a Democrat. I'm not a Republican, and I don't even consider myself an American. If you and I were Americans, there'd be no problem. Those Honkies that just got off the boat, they're already Americans; Polacks are already Americans; the Italian refugees are already Americans. Everything that came out of Europe, every blue-eyed thing, is already an American. And as long as you and I have been over here, we aren't Americans yet. . . .
No, I'm not an American. I'm one of the 22 million black people who are the victims of Americanism. One of the 22 million black people who are the victims of democracy, nothing but disguised hypocrisy. So, I'm not standing here speaking to you as an American, or a patriot, or a flag-saluter, or a flag-waver—no, not I. I'm speaking as a victim of this American system. And I see America through the eyes of the victim. I don't see any American dream; I see an American nightmare.
These 22 million victims are waking up. Their eyes are coming open. They're beginning to see what they used to only look at. They're becoming politically mature. They are realizing that there are new political trends from coast to coast. As they see these new political trends, it's possible for them to see that every time there's an election the races are so close that they have to have a recount. They had to recount in Massachusetts to see who was going to be governor, it was so close. It was the same way in Rhode Island, in Minnesota, and in many other parts of the country. And the same with Kennedy and Nixon when they ran for president. It was so close they had to count all over again. Well, what does this mean? It means that when white people are evenly divided, and black people have a bloc of votes of their own, it is left up to them to determine who's going to sit in the White House and who's going to be in the dog house. . . .
In this present administration they have in the House of Representatives 257 Democrats to only 177 Republicans. They control two-thirds of the House vote. Why can't they pass something that will help you and me? In the Senate, there are 67 senators who are of the Democratic Party. Only 33 of them are Republicans. Why, the Democrats have got the government sewed up, and you're the one who sewed it up for them. And what have they given you for it? Four years in office, and just now getting around to some civil rights legislation. Just now, after everything else is gone, out of the way, they're going to sit down now and play with you all summer long—the same old giant con game that they call filibuster. All those are in cahoots together. Don't you ever think they're not in cahoots together, for the man that is heading the civil rights filibuster is a man from Georgia named Richard Russell. When Johnson became president, the first man he asked for when he got back to Washington, DC, was "Dicky"—that's how tight they are. That's his boy, that's his pal, that's his buddy. But they're playing that old con game. One of them makes believe he's for you, and he's got it fixed where the other one is so tight against you, he never has to keep his promise.
So it's time in 1964 to wake up. And when you see them coming up with that kind of conspiracy, let them know your eyes are open. And let them know you've got something else that's wide open too. It's got to be the ballot or the bullet. . . .
So, where do we go from here? First, we need some friends. We need some new allies. The entire civil rights struggle needs a new interpretation, a broader interpretation. We need to look at this civil rights thing from another angle—from the inside as well as from the outside. To those of us whose philosophy is black nationalism, the only way you can get involved in the civil rights struggle is give it a new interpretation. That old interpretation excluded us. It kept us out. So, we're giving a new interpretation to the civil rights struggle, an interpretation that will enable us to come into it, take part in it. And these handkerchief-heads who have been dillydallying and pussy footing and compromising—we don't intend to let them pussyfoot and dillydally and compromise any longer. . . .
The black nationalists, those whose philosophy is black nationalism, in bringing about this new interpretation of the entire meaning of civil rights, look upon it as meaning, as Brother Lomax has pointed out, equality of opportunity. Well, we're justified in seeking civil rights, if it means equality of opportunity, because all we're doing there is trying to collect for our investment. Our mothers and fathers invested sweat and blood. Three hundred and ten years we worked in this country without a dime in return—I mean without a dime in return. You let the white man walk around here talking about how rich this country is, but you never stop to think how it got rich so quick. It got rich because you made it rich.
You take the people who are in this audience right now. They're poor. We're all poor as individuals. Our weekly salary individually amounts to hardly anything. But if you take the salary of everyone in here collectively, it'll fill up a whole lot of baskets. It's a lot of wealth. If you can collect the wages of just these people right here for a year, you'll be rich—richer than rich. When you look at it like that, think how rich Uncle Sam had to become, not with this handful, but millions of black people. Your and my mother and father, who didn't work an eight-hour shift, but worked from "can't see" in the morning until "can't see" at night, and worked for nothing, making the white man rich, making Uncle Sam rich.
This is our investment. This is our contribution, our blood. Not only did we give of our free labor, we gave of our blood. Every time he had a call to arms, we were the first ones in uniform. We died on every battlefield the white man had. We have made a greater sacrifice than anybody who's standing up in America today. We have made a greater contribution and have collected less. Civil rights, for those of us whose philosophy is black nationalism, means: "Give it to us now. Don't wait for next year. Give it to us yesterday, and that's not fast enough.". . .
The political philosophy of black nationalism means that the black man should control the politics and the politicians in his own community; no more. The black man in the black community has to be reeducated into the science of politics so he will know what politics is supposed to bring him in return. Don't be throwing out any ballots. A ballot is like a bullet. You don't throw your ballots until you see a target, and if that target is not within your reach, keep your ballot in your pocket. The political philosophy of black nationalism is being taught in the Christian church. It's being taught in the NAACP. It's being taught in CORE2 meetings. It's being taught in SNCC Student Nonviolent Coordinating Committee meetings. It's being taught in Muslim meetings. It's being taught where nothing but atheists and agnostics come together. It's being taught everywhere. Black people are fed up with the dillydallying, pussyfooting, compromising approach that we've been using toward getting our freedom. We want freedom now, but we're not going to get it saying "We Shall Overcome."3 We've got to fight until we overcome.
The economic philosophy of black nationalism is pure and simple. It only means that we should control the economy of our community. Why should white people be running all the stores in our community? Why should white people be running the banks of our community? Why should the economy of our community be in the hands of the white man? Why? If a black man can't move his store into a white community, you tell me why a white man should move his store into a black community. The philosophy of black nationalism involves a reeducation program in the black community in regard to economics. Our people have to be made to see that any time you take your dollar out of your community and spend it in a community where you don't live, the community where you live will get poorer and poorer, and the community where you spend your money will get richer and richer. Then you wonder why where you live is always a ghetto or a slum area. And where you and I are concerned, not only do we lose it when we spend it out of the community, but the white man has got all our stores in the community tied up; so that though we spend it in the community, at sundown the man who runs the store takes it over across town somewhere. He's got us in a vise.
So the economic philosophy of black nationalism means in every church, in every civic organization, in every fraternal order, it's time now for our people to become conscious of the importance of controlling the economy of our community. If we own the stores, if we operate the businesses, if we try and establish some industry in our own community, then we're developing to the position where we are creating employment for our own kind. Once you gain control of the economy of your own community, then you don't have to picket and boycott and beg some cracker downtown for a job in his business.
The social philosophy of black nationalism only means that we have to get together and remove the evils, the vices, alcoholism, drug addiction, and other evils that are destroying the moral fiber of our community. We ourselves have to lift the level of our community, the standard of our community to a higher level, make our own society beautiful so that we will be satisfied in our own social circles and won't be running around here trying to knock our way into a social circle where we're not wanted.
So I say, in spreading a gospel such as black nationalism, it is not designed to make the black man reevaluate the white man—you know him already— but to make the black man reevaluate himself. Don't change the white man's mind—you can't change his mind, and that whole thing about appealing to the moral conscience of America—America's conscience is bankrupt. She lost all conscience a long time ago. Uncle Sam has no conscience. They don't know what morals are. They don't try and eliminate an evil because it's evil, or because it's illegal, or because it's immoral; they eliminate it only when it threatens their existence. So you're wasting your time appealing to the moral conscience of a bankrupt man like Uncle Sam. If he had a conscience, he'd straighten this thing out with no more pressure being put upon him. So it is not necessary to change the white man's mind. We have to change our own mind. You can't change his mind about us. We've got to change our own minds about each other. We have to see each other with new eyes. We have to see each other as brothers and sisters. We have to come together with warmth so we can develop unity and harmony that's necessary to get this problem solved ourselves. How can we do this? How can we avoid jealousy? How can we avoid the suspicion and the divisions that exist in the community? I'll tell you how. . . .
Our gospel is black nationalism. We're not trying to threaten the existence of any organization, but we're spreading the gospel of black nationalism. Anywhere there's a church that is also preaching and practicing the gospel of black nationalism, join that church. If the NAACP is preaching and practicing the gospel of black nationalism, join the NAACP. If CORE is spreading and practicing the gospel of black nationalism, join CORE. Join any organization that has a gospel that's for the uplift of the black man. And when you get into it and see them pussyfooting or compromising, pull out of it because that's not black nationalism. We'll find another one.
And in this manner, the organizations will increase in number and in quantity and in quality, and by August, it is then our intention to have a black nationalist convention which will consist of delegates from all over the country who are interested in the political, economic, and social philosophy of black nationalism. After these delegates convene, we will hold a seminar; we will hold discussions; we will listen to everyone. We want to hear new ideas and new solutions and new answers. And at that time, if we see fit then to form a black nationalist party, we'll form a black nationalist party. If it's necessary to form a black nationalist army, we'll form a black nationalist army. It'll be the ballot or the bullet. It'll be liberty or it'll be death. . . .
. . .I don't believe in any kind of integration; I'm not even worried about it, because I know you're not going to get it anyway; you're not going to get it because you're afraid to die; you've got to be ready to die if you try and force yourself on the white man, because he'll get just as violent as those crackers in Mississippi, right here in Cleveland. But we will still work with you on the school boycotts because we're against a segregated school system. A segregated school system produces children who, when they graduate, graduate with crippled minds. But this does not mean that a school is segregated because it's all black. A segregated school means a school that is controlled by people who have no real interest in it whatsoever.
Let me explain what I mean. A segregated district or community is a community in which people live, but outsiders control the politics and the economy of that community. They never refer to the white section as a segregated community. It's the all-Negro section that's a segregated community. Why? The white man controls his own school, his own bank, his own economy, his own politics, his own everything, his own community; but he also controls yours. When you're under someone else's control, you're segregated. They'll always give you the lowest or the worst that there is to offer, but it doesn't mean you're segregated just because you have your own. You've got to control your own. Just like the white man has control of his, you need to control yours. . . .
Last but not least, I must say this concerning the great controversy over rifles and shotguns. The only thing that I've ever said is that in areas where the government has proven itself either unwilling or unable to defend the lives and the property of Negroes, it's time for Negroes to defend themselves. Article number two of the constitutional amendments provides you and me the right to own a rifle or a shotgun. It is constitutionally legal to own a shotgun or a rifle. This doesn't mean you're going to get a rifle and form battalions and go out looking for white folks, although you'd be within your rights—I mean, you'd be justified; but that would be illegal, and we don't do anything illegal. If the white man doesn't want the black man buying files and shotguns, then let the government do its job. That's all. And don't let the white man come to you and ask you what you think about what Malcolm says—why, you old Uncle Tom. He would never ask you if he thought you were going to say, "Amen!" No, he is making a Tom out of you.
So, this doesn't mean forming rifle clubs and going out looking for people, but it is time, in 1964, if you are a man, to let that man know. If he's not going to do his job in running the government and providing you and me with the protection that our taxes are supposed to be for, since he spends all those billions for his defense budget, he certainly can't begrudge you and me spending $12 or $15 for a single-shot, or double-action. I hope you understand. Don't go out shooting people, but any time—brothers and sisters, and especially the men in this audience; some of you wearing Congressional Medals of Honor, with shoulders this wide, chests this big, muscles that big—any time you and I sit around and read where they bomb a church and murder in cold blood, not some grownups, but four little girls while they were praying to the same God the white man taught them to pray to, and you and I see the government go down and can't find who did it.
. . . You talk about a march on Washington in 1963, you haven't seen anything. There's some more going down in '64. And this time they're not going like they went last year. They're not going singing "We Shall Overcome." They're not going with white friends. They're not going with placards already painted for them. They're not going with round trip tickets. They're going with one-way tickets.
And if they don't want that non-nonviolent army going down there, tell them to bring the filibuster to a halt. The black nationalists aren't going to wait. Lyndon B. Johnson is the head of the Democratic Party. If he's for civil rights, let him go into the Senate next week and declare himself. Let him go in there right now and declare himself. Let him go in there and denounce the southern branch of his party. Let him go in there right now and take a moral stand—right now, not later. Tell him don't wait until election time. If he waits too long, brothers and sisters, he will be responsible for letting a condition develop in this country which will create a climate that will bring seeds up out of the ground with vegetation on the end of them looking like something these people never dreamed of. In 1964, it's the ballot or the bullet.
Thank you.
Footnotes
1.

Louis Lomax (1922–1970) was a print and TV journalist and the author of several books on race-related subjects. He interviewed Malcolm X for a documentary, The Hate that Hate Produced (1959).

2.

Congress of Racial Equality, founded in 1942 as an interracial organization dedicated to nonviolent activism in the service of the civil rights cause. For the National Association for the Advancement of Colored People (NAACP) and the Student Nonviolent Coordinating Committee, see "An Address to the Country" and Statement of Purpose, respectively.

3.

"We Shall Overcome" was a gospel song originally composed in 1900 by an African American pastor, Rev. Charles Albert Tindley. The song was performed at the March on Washington in 1963 and thereafter became the unofficial anthem of the civil rights movement.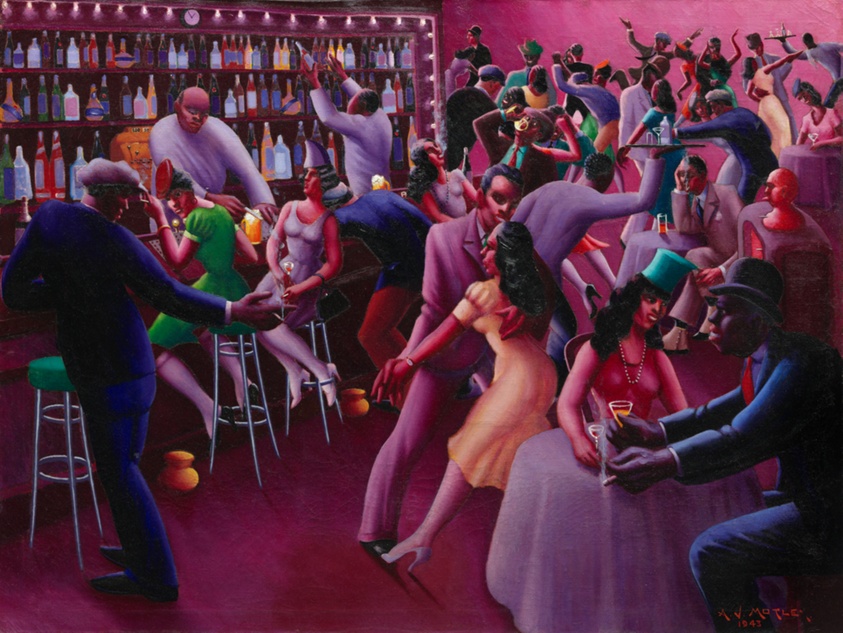 Conversation-based seminars for collegial PD, one-day and multi-day seminars, graduate credit seminars (MA degree), online and in-person.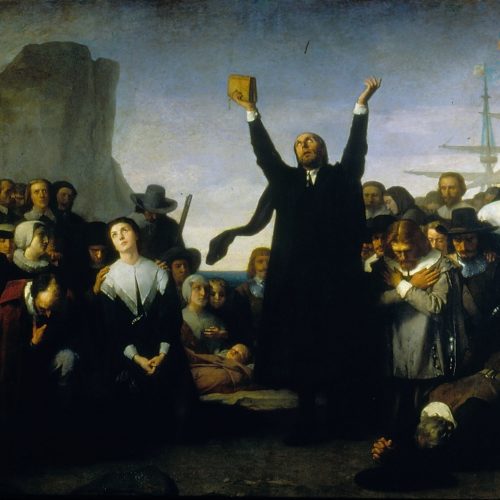 Our Core Document Collection allows students to read history in the words of those who made it. Available in hard copy and for download.