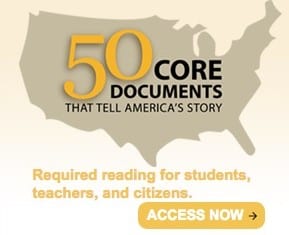 Plessy v. Ferguson: May 18th, 1896
May 18th is the anniversary Plessy v. Ferguson, in which the doctrine of "equal, but separate" was affirmed by the United States Supreme Court. This landmark case helped to cement the Jim Crow laws already prevalent throughout the South, and paved the way for another 60 years of legal segregation before it was overturned by Brown v. Board of Education (1954). Learn more about the details and historical context of this case at TeachingAmericanHistory.org, where it's one of our 50 Core Documents. The case, with Justice Harlan's dissenting opinion that the "Constitution is color-blind," is also accompanied by a summary, guiding questions, links to related documents, and a search tool to help you find state academic standards relevant to the case.
Our 2016-17 Saturday Webinars will focus on developing a deeper understanding of Landmark Supreme Court Cases, including Plessy v. Ferguson. Registration details will be published soon. In the meantime, you can access all our archived webinars, and subscribe to our iTunes podcast, too.